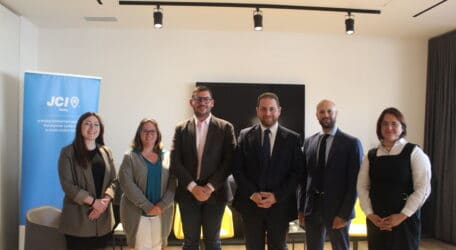 JCI Malta successfully organises the third edition of You Ask MEPs Answer allowing young citizens to meet their MEPs and ask their questions
JCI Malta, the international leadership organisation, in collaboration with the European Liaison Office, ran its You Ask MEPs Answer Q&A event for the third year running, inviting members of the public to listen to and speak with the Maltese MEPs.
'You Ask, MEPs Answer' was held on 6 May at Business Labs in Birkirkara, after a two-year stint of having been held online due to the pandemic. Through its relationship with the European Liaison Office, all Maltese MEPs were invited to be present at the event to chat with constituents. MEPs Cyrus Engerer and Alex Agius Saliba were present in the room, while MEP Josianne Cutajar joined via live link. Unfortunately, the other MEPs, including European Parliament President Roberta Metsola, were unable to attend the event.
JCI Malta National President Giselle Borg Olivier opened the event and welcomed everyone. She paid homage to the relationship between JCI Malta and the European Liaison Office noting the importance of collaboration between entities to achieve certain goals.
"Our collaboration with the European Liaison Office dates back to 2019, and throughout the pandemic has remained strong as they offer us support and serve as a link between initiatives that we want to hold and the people who are important for these initiatives," she said.
Dr Mario Sammut, Head of the European Parliament Office in Malta, also addressed the audience thanking the MEPs for making the time to be present at these events, noting that their schedules are extremely busy.
The three MEPs replied to questions about their work on the many different committees that they sit on, what a typical day is like and the amount of travel that they endure, the importance of having a team to support you, and their thoughts on Ukraine's application to join the EU. The session was moderated by JCI Malta's Director of Training, Dr Steph Dalli.

To keep updated with other JCI Malta initiatives, go to www.jci.org.mt/events
JCI Malta is supported by its Corporate Partners: 230 Works, Chitzo, Content for Success, JAYE Malta, JPA, UP Your Level Performance Coaching, Veonio, Zaar, and Zampa Debattista.