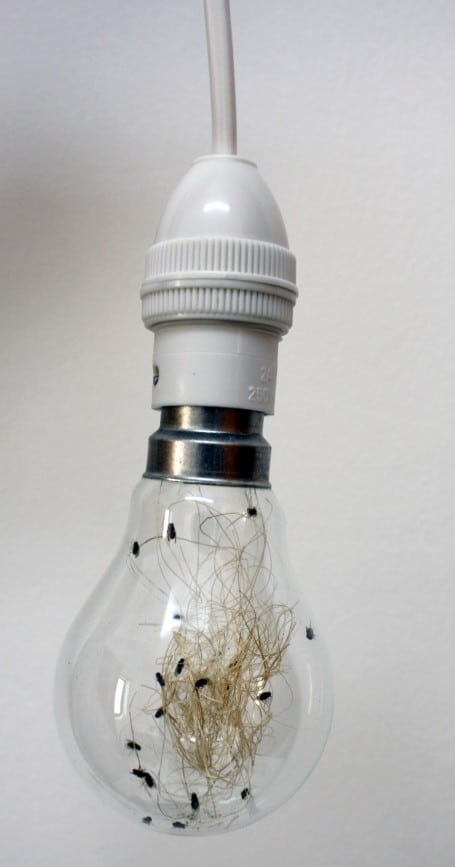 Pictured: Fruitfly bulb by Sarah Maria Scicluna
Maltese artists exploring various scientific phenomena have joined up in an interactive exhibition, entitled How?', that brings together science and art. How does the human mind work? How can a fly be compared to a human or be useful towards the future of the human race? How is a child born with a deformity? How does something stretch and get fatter?
Each artist is seeking to represent a particular scientific research. For inspiration and accurate results, these artists had the opportunity of working with a Maltese scientist specialising in the chosen area by the respective artist.
Artists exhibiting in How? are (in alphabetical order): Adrian Abela, Elisa Von Brockdorff, Matthew Farrugia, Michael Xuereb, Raphael Vella, Sarah Scicluna and rubberbodies collective.
'How?' offers something for both adults and children to learn more about the way the body, the mind and the world works, using physics, genetics, social science, and chemistry, in a simple and engaging way.
Curated by Lily Agius Gallery, the collective exhibition will be held at the Upper Galleries, St James Cavalier Centre for Creativity as part of the festival 'Science in the City' on 28th September and will remain open till 28th October. Lily Agius is also the curator for the various street installations by artists Norbert Francis Attard in 'You are the Staircase', Emanuel Bonnici with 'Joyride', Chris Briffa in Silence in Strait Street, Liliana Fleri Soler with a collection of humanised fruit flies, and Raphael Vella in 'Cortex'.
'Science in the City' places researchers on centre stage bringing science closer to people of all ages, in a fun, entertaining and creative way.  The festival is a celebration of a joint collaboration between Maltese scientists and artists. 'Science in the City' aims to encourage young people to build on Malta's cultural legacy and to develop the scientific skills and confidence to create better lives and better future.
'Science in the City' festival is supported by the EU FP7 Programme and the Malta Arts Fund.  The event is coordinated by The University of Malta, in partnership with the Valletta Local Council, MEUSAC, Malta Council for Science and Technology, Malta Council for Culture and the Arts, Where's Everybody, Malta Chamber of Scientists, Notte Bianca, iCreatemotion, Lily Agius Gallery, St James Cavalier, Microsoft Innovation Centre Malta and the University's Research, Innovation and Development Trust (RIDT).
Further details can be obtained from: www.scienceinthecity.org.mt; and on Facebook: www.facebook.com/ScienceInTheCityMalta