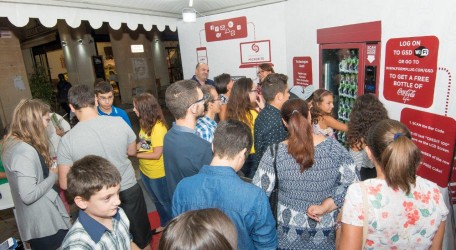 Following last year's successful participation at Science in the City, during which the innovative EKOCYCLE Cube 3D printer was showcased, this year GSD Marketing Ltd introduced their smart vending machines. These high tech vending machines combine next-generation technology with current digital trends thus adding an interesting twist towards promoting new products. This was GSD Marketing's third year at the popular annual festival Science in the City which was held in Valletta last week (September 30).
GSD Marketing Ltd is the distributor of drinks by The Coca-Cola Company, produced in Malta by The General Soft Drinks Co. Ltd. Recently, GSD Marketing invested in custom-made intelligent machines combining barcode authentication technology with marketing of new products in an innovative way. The technology used in these vending machines was developed in collaboration with Cloudlabs Ltd.
"GSD Marketing Ltd always strives to communicate with its consumers in their preferred language, combining technology with the element of fun which today's digital world provides," said General Manager Brian Galea. "Year on year, Science in the City provides an excellent platform to share GSD Marketing's latest technology applications with the public."
"These intelligent vending machines enable us to reach out to our audience encouraging them to taste the feeling of our beverages through a memorable experience," said Public Affairs & Communications Executive Clarissa Jones.