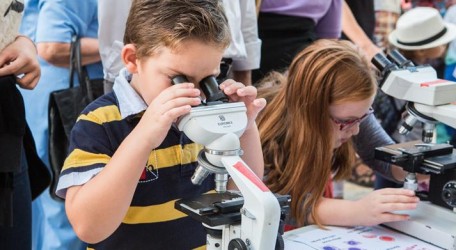 Photo credit: Elisa von Brockdorff
Thousands of families and people of all ages thronged into Valletta on Friday evening to experience a myriad of science activities displaying the theme of the human brain during the 5th edition of the European Researchers' Night, Science in the City, 2016.
It is estimated that around 25,000 people visited the annual science festival that included science debates, interactive experiments, demonstrations and hands-on experiences to the playing of music and visuals with the brain, mind games and new research in neuroscience. The festival was also peppered with experimental music, dance and theatre performances inspired by the brain and the mind.
More than 60 researchers and 200 students participated in this year's Science in the City which also attracted over 50 partners including a good number of NGOs, some from the mental health sector.
The Prime Minister and Mrs Muscat visited the Health and Rare Disease Research area late in the evening where the National Alliance on Rare Disease and the Malta Bio-Bank were exhibiting. They came face to face with the reality of rare brain disease in children.
An exhibition showcasing the research of the Malta Neuro-Science Network and other Neuro-Scientists at the University of Malta, is open at the Parliament until the 6 October. The exhibit also celebrates the contribution to Neuro-Science by four Maltese personalities; Professor Louis Vassallo, Professor George P. Xuereb, Dr. Ludvic Zrinzo and Professor Edward deBono for their pioneering work on brain science and neurologic disease.
A production about Neuro-Science research in Malta was shown on TVM, while the event unfolded in Valetta.
European Researchers' Night, Science in the City is mainly funded by the Research and Innovation Framework Programme Horizon 2020 (H2020, 2014–2020 of the European Commission through the Marie Skłodowska-Curie actions and organised in Malta by a consortium that is led by the University of Malta, the Malta Chamber of Scientists and the University's Research Trust. It is recognised as a Festival by Europe for Festivals and Festivals for Europe (EFFE).