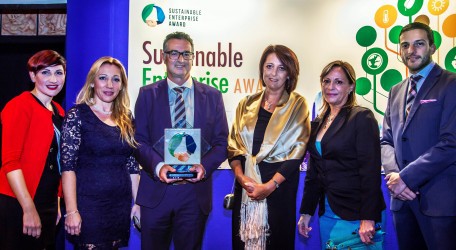 GreenPak Coop Society won first prize in the second edition of the Sustainable Enterprise Awards. The cooperative was awarded this prize for its popular and engaging 'Nirriċikla għall-Istrina' campaign.
Malta's largest waste recovery scheme was presented with the coveted honour by the Minister for the Economy, Investment and Small Business, Dr Chris Cardona. The Ministry together with Cleaner Technology Centre from the University of Malta are the main organisers.
GreenPak CEO Ing. Mario Schembri said: "The 'Nirriċikla għall-Istrina' campaign is a truly sustainable project as it operates on many levels. On the one hand, it promotes recycling, reducing the need for raw materials. On the other, and perhaps more significant, it engages children and adults to work together to help raise money for the Malta Community Chest Fund. It is a project which helps the Maltese community do more for the environment and donate money to those with special needs."
Now in its 6th edition, 'Nirriċikla għall-Istrina', aims to collect funds for the annual l-Istrina charity telethon through gathering and recycling of plastic bottle caps. During the 2015 campaign, GreenPak recycled over 11.5 million caps which would have otherwise ended up in landfills. The plastic caps were collected from 138 schools and 36 other entities such as local councils, scout groups, band clubs and other organisations.
During his address Minister Cardona highlighted the fact that the awards are a celebration of Malta's best sustainable enterprises and champions of the sector. "Each year the Sustainable Enterprise Awards help shine a light on the extraordinary work Malta-based enterprises are doing to help the community. Competition was tougher this year and the shortlist was bursting with inspiring examples of how businesses can have a positive impact on society – the winners deserve to be duly recognised and celebrated."
The Sustainable Enterprise Awards were developed in 2015 by the Ministry for the Economy, Investment and Small Business in collaboration with Cleaner Technology Centre at the University of Malta to promote the business community's responsibility towards sustainability in the social community. The Awards reward Maltese enterprises, in particular micro, small and medium-sized enterprises for their efforts to change their practices with the aim of increasing economic, social and environmental sustainability. The winning enterprises are awarded prize money together with a trophy and a certificate. The Sustainable Enterprise Award will be holding its third edition in 2017.