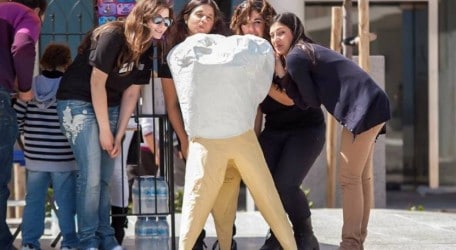 This evening, Science in the City will bring students together to participate and share their thoughts in how science can be fun and interesting while transmitting their dedication for research. Various student organisations are getting together to help the public during this science and art festival, navigating through over 20 events spread around Valletta.
The festival is free and open for everyone. ASK ME! Will be the sign encouraging public participation to look behind the art and at the source of inspiration. Art works include "You are the staircase" by Norbert Attard, "Cortex" by Rapheal Vella, "Humanised fruit flies" by Liliana Fleri Soler, 'Silence in Strait Street' by Chris Briffa, and "Joyride" by Emanuel  Bonnici. The team will make use of tablets and laptops to provide a better interactive experience for visitors to Science in the City.
WithinValletta's streets, the public will see a number of info points at key points aroundVallettaincluding City Gate,St. George's Square, Republic Street andMerchant Street. Each info point will have a number of students from different organisations available to share information with the public with interesting facts and discussions on what's going on during the night.
There will be a series of simple and fun experiments that will be conducted by University students throughout the night, organised by the Science Students' organization (S-Cubed). The students will be located on Republic Street close to Pjazza Regina, holding shows every hour from 7.30 till 10.30. They will be passing kebab stick through balloons, extinguishing flames without water, making Elephant's Toothpaste, and more. .
The Malta Association of Dental Students will using tooth fairies, various games, and a giant tooth model to show oral health advice in an entertaining way.
There will also be other activities organized by various student groups from the Universityof Malta. M.A.D.S. – Malta Association of Dental Students, S-Cubed — The Science Students' Society, IEEE Malta Student Branch, MMSA — Malta Medical Student Association, ICTSA — Information Technology Students' Association, JEF — Young European Federalists, are all part of Science in the City.
Other well known establishments namely Auberge D'Italie, area in front ofSt John'sCo-Cathedral, and the MEUSAC building on Republic Street will be also offering a list of fun activities for all ages.
Microsoft and Vodafone sponsored the organization of students and associated materials.