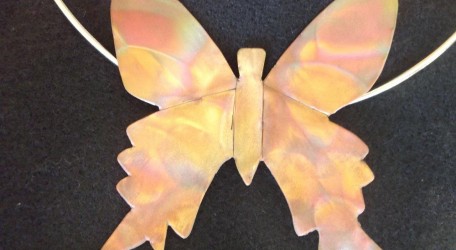 Pictured above: Jackie Roberts 'Butterfly' copper pendant on metal choker
For the third year running  artisan designers Pat Holtom and Jackie Roberts encourage you to support local artisan business and do your Christmas gift shopping on Gozo – no crowds, no cheap imports and no loud music!  Just quality contemporary craft displayed in the courtyard and millroom of a beautiful old farmhouse in Gharb.
Pat is showing a new collection of hand-painted silk scarves. Each one an original work of art.  Alongside her woven textiles, ties, bags and cushion covers  she is exhibiting golden wall hangings created during the summer.  There are also new collaborations by the two makers combining woven textiles with metal and plant fibres.
Jackie Roberts is showing her unusual art in metal and funky jewellery.
There will also be a vintage section with textiles, jewellery, ceramics and more.
Pop in and browse at your leisure with no pressure to buy. Have a chat with the makers over a glass of wine and home-made biscuits. They are happy to discuss original commission ideas with you.
The Open Days are at: 7 Bishop Molina Street, Gharb (take Trux Street behind Gharb Church, follow it along and to the right).
Open: Friday 30 November 3-5pm & Saturday 1 December 10am-2pm
Saturday 8 December from 10am-2pm.
The work of Pat Holtom, Jackie Roberts and other local and international designer/makers can be seen at Prickly Pear Designs shop, owned by Jeweller Rachel Robinson, inVictoria, Gozo (to the right ofSt George'schurch).  Open Mon-Fri (closed Wed)10.30am-4pmand Saturday 10.30-12.45.
For further information contact:
Pat Holtom: 27 553 138 or Jackie Roberts: 79 563 753
or find them on Facebook