International dancer and choreographer Mavin Khoo delves into the philosophical concept of space.  Akasha is a contemporary dance theatre piece that explores the notion of ether as signified through the pluralism of its possibilities; air, spirit, energy. It frames its content from the abstracted framework of Vedic interpretation.
Researched and developed in Malta, the work includes an international company of performers and artistic collaborators (UK/Malaysia/Malta) under the direction of Khoo.
The International Premier will take place at the Manoel Theatre on 2 & 3 October 2012 at 8pm. For bookings please contact the Manoel Theatre booking office: tel. 21246389 or email: [email protected]
Watch the trailer  
Akasha signifies the meeting point of five energies that are between worlds. In their personal struggles of indistinguishable surrealism and realism they interact in a physical dialogue. Performed under a circle of light, the five performers (five energies) are between worlds; of earth and heaven, mortality and immortality. They are forced to engage with the 'efforts' of their meeting. They embody the virtuosity of enlarged physical attributes within the confinement of a static space; thus establishing the experience as real as opposed to assumed. The work blurs the lines of dance identity; asking us to look at hybrid Dance, not just within its cultural and ethnic canvases, but its potential to engage with notions of virtuosity, neo-classicism and stylization beyond the boundaries of formal dance making. Here, Dancer is Actor and Actor is Dancer, anchoring the performance premise to the ancient Natya Shastra (200 BC- 200 AD), whereby the disciplines of theatre, dance and music are encompassed and unified within the performer.
Akasha is choreographed to a recorded sound score by Renzo Spiteri and the live and recorded vocals of renowned Carnatic singer Pushkala Gopal and lighting design by Moritz Zavan.
On 25 October 2012 Akasha will be performed at SOTA (SchoolofPerforming Arts) inSingaporeas part of IADMS Conference (International Association of Dance Medicine and Science).
Akasha in Sanskrit means "ether"; both in its elemental and metaphysical senses.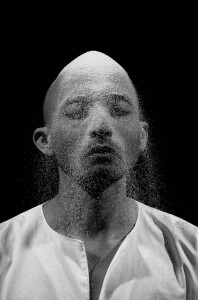 What is Akasha?
Ether stands as an intangible presence within the tangible materialism of the Now. It is seen as the first element of creation; locating itself in the populated matter of the Earth and the seemingly nothingness of the 'other' world.  It is All Pervading, an imperceptible substance that exists as a playground to the existence of those that cannot be perceived. It is Nothing and it is Everything. It is Empty and it is Full. It is What Is and What Could Be.
Mavin Khoo talking about Akasha