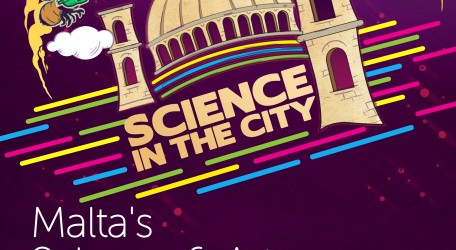 This year's festival is more exciting than ever before. With a new layout and a host of innovative activities, the 6th edition of Science in the City—European Researchers' Night, promises to be a night to remember. On Friday 29 September 2017 from 6.00pm until midnight science and the arts will transform Republic Street as visitors of all ages explore the highly interactive activities. Plans include the usual health and dental checks, child-friendly experiments, shows and games, as well as totally new activities that find their inspiration in ongoing research projects here in Malta, such as Light Pushes Stuff, AR Art, Holograms and so much more.
Consortium Chairman Professor Alex Felice (University of Malta) said: "This year, we wanted to focus on the Future and asked the question: how does the research of today shape the society of the tomorrow? The theme Futures encompasses new ways of producing and cleaning food items, the benefits of big data, new and innovative means of transport and communication, and the impact of genomics on our health. Scientific research is critical in shaping tomorrow's world and we want everyone to see just how fascinating the work they do really is."
Project Manager Dr Edward Duca (University of Malta) said: "Science in the City has become a national annual event which has been awarded an EFFE label (Europe for Festivals, Festivals for Europe). Our aim from the start, way back in 2012 was to communicate science and research to people of all ages. The festival is a collaborative effort between researchers, academics, an ever increasing number of student volunteers, NGOs, government agencies and artists who together provide a very interesting range of activities that make Science in the City such a unique annual event."
The Hon. Silvio Schembri, Parliamentary Secretary for Financial Services, Digital Economy and Innovation, said: 'The activity is an example of how science could be an experience for everyone. The capital city offers the ideal set up so that science will reach people from different spheres of society. We should emphasise the importance that from a young age children learn more about science and how it is constantly present around them so that they would appreciate it and understand it better. Through this, we encourage children and youth to pursue a career in science. An essential step that helps in the strengthening of the innovation sector in Malta.'
As in previous years, the event shall be opened the day before with an exhibition of exciting research projects by a group of leading young researchers with a bright future. It is known as "Science in the House" since it is hosted by the Speaker of the House of Representatives in the Parliament building. It has become a unique opportunity for Members of Parliament to meet Maltese scientists and their research. It is co-ordinated by Dr David Magri.
Old timers and organisations that have never participated in SitC will set up their stalls at the Science Fair, City Gate street labs, environmental issues, air monitoring, the science of transport, games, the list is endless.
A main attraction is Light Pushes Stuff, an interactive moving light sculpture—a Malta first! And, have you heard? Scientists have found that light is capable of doing so. This could lead to endless new applications that would change the way we communicate, travel, etc. Meet the researcher and artists who have turned this exciting discovery into a unique light installation just off Freedom Square.
Spazju Kreattiv will be hosting Kids Dig Science, an exhibition Transmission Interrupted by Martina Camilleri, an MCAST student, and Get Your Act Together (by More or Less Theatre with the support of Valletta 2018 Foundation and Malta Arts Fund within Arts Council Malta). The Cinema Room will host a series of talks on the hour by Malta Café Scientifique, while ĊineXjenza, a series of short films, followed by discussion, will be shown by the steps leading to Spazju Kreattiv at the entrance to Valletta.
For the third year running, the new Parliament building will showcase an exhibition of exciting research projects by the University of Malta, called Science in the House.
An NGO area in De Valette Square includes organisations concerned with social, environmental, scientific, artistic and historical issues.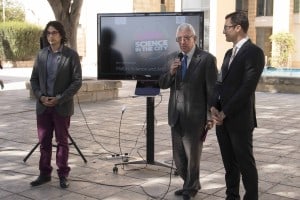 This year, STEAM will be set up in St George's Square, the idea is to give better access to the stands. STEAM Squared has been set up to host a large number of University of Malta's student organisations.
Greenhouse an NGO that takes the threat on the survival of bees very seriously, will be setting up a series of activities to highlight the huge importance this insect has on the future of our food supplies and plant life in general.
Jazz for the Brain, the result of an unlikely collaboration between jazz players and a Maltese neuroscientist, will be staged in St Barbara Church, where lights and music will display the complexity of a stroke, and the technology being used to address the condition.
This year researchers will be giving demos and explaining their work along Republic Street, keep an eye out for the light cubes. Also along the street, mini stages with fire jugglers and experiments, a huge science stage complete with explosions, an exhibition on the harm inflicted by plastic waste on ocean life. Artificial reality will bring art to life, while virtual reality will help players empathise with people with special needs. Crimes will be staged along the street, for the crime hunter activity, get the app and your phones at the ready to report these crimes to the authorities. Facial recognition stations to track your every move, big brother style.
Meet the researchers who have benefitted from EU funds to further their career, at the EU Corner outside the MEUSAC building. Enter the building to find out about the EU's space policy and go right up to the roof to join the Institute of Space Sciences and Astronomy (ISSA) in the Kids in Orbit activity.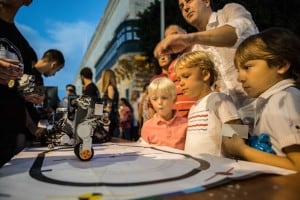 This year Science in the City is bursting at the seams, it augurs to be the largest Science and Arts festival ever staged on the island.
Science in the City is part of the EU-wide celebration, European Researchers' Night. It is funded by the Marie Skłodowska-Curie Actions of the Horizon 2020 Programme of the EU, and a number of corporate sponsors. It is recognised as a Festival by Europe for Festivals and Festivals for Europe (EFFE)
The event is organised by a consortium led by University of Malta, Malta Chamber of Scientists and the Research Trust of the University of Malta, in partnership with the Ministry for Education and Employment, Parliamentary Secretary for Financial Services, Digital Economy and Innovation, Jugs Malta, Studio 7, MEUSAC, MCST, Esplora, Valletta Local Council, Malta College for Arts, Science and Technology, PBS, Notte Bianca, Spazju Kreativ, Pjazza Teatru Rjal, the AquaBioTech Group, the Central Bank of Malta, Wasteserv and a number of other partners.
A full programme can be viewed on www.scienceinthecity.org.mt and the festival followed on Facebook for regular updates: www.facebook.com/ScienceInTheCityMalta