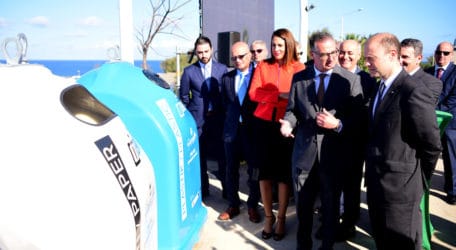 First project of its kind in Malta connected by Vodafone
Recycling cooperative GreenPak today started rolling out its revolutionary iBiNs that are equipped with smart technology that enables citizens to recycle 24/7 and spells an end to overflowing bring-in sites.
Using next generation Internet of Things technology introduced for the first time to the island by Vodafone Malta, the iBiNs have the capability to monitor waste levels and feed information back to a central system which enables GreenPak's recycling service to prioritise and customise collection routes in the localities it serves across Malta and Gozo.
Addressing a joint press conference with Prime Minister Joseph Muscat, GreenPak CEO Mario Schembri said that by the end of February the Cooperative would have invested more than €600,000 to introduce a network of 800 bins with the smart iBiNs. The announcement — made in the presence of Local Government Minister Owen Bonnici, Environment Minister Jose Herrera, Digital Economy Parliamentary Secretary Silvio Schembri, Consumer Protection Parliamentary Secretary Deo Debattista, and Local Government Parliamentary Secretary Silvio Parnis — was made at Pembroke, the first locality to set up bring-in sites in 2002. Pembroke will now be the first to receive the intelligent bins.
Ing. Schembri said: "This is an exciting time for GreenPak and it fits right in with our vision to Recycle Anytime, Anywhere. By providing the community with a reliable 24/7 service, households no longer need to wait until the designated day to take out their rubbish.
"Our initiative is one of the first public service projects that uses the Internet Of Things on this scale in Malta and will take our waste management to another level. This is the way forward for a better Malta," Mr Schembri said.
To power such technology, Vodafone has brought Narrowband Internet of Things (NB- IoT) to Malta for the first time. NB-IoT is a new technology standard, just like 3G and 4G, designed to broaden the future of IoT connectivity.
This means that the iBiNs will use devices that can reliably connect with the network, even if installed in remote areas or underground.
The smart iBiNs are being supported through the Business Enhance ERDF Grant Schemes Initiative, and part-financed by the European Regional Development Fund under Operational Programme I 2014-2020 'Fostering a competitive and sustainable economy to meet our challenges'.
Apart from eradicating unsightly overflowing, the bins will enable GreenPak to avoid unnecessary truck movements and focus only on those bins which actually need to be emptied, improving the quality of air and improving traffic on our roads.
"Our iBiNs will be managed in real time and data received will be fed into our fleet management system, informing drivers which ones require urgent attention or not. Apart from helping GreenPak improve its service, we will also be minimising our carbon footprint and reducing costs," Mr Schembri said.
This move takes Malta a step closer to becoming a Smart City where the latest technology leads to increased operational efficiency, enables GreenPak to share information with the public and improves the quality of citizens' everyday lives.
Mr Schembri added that GreenPak has developed a web-app and has teamed up with Vodafone Malta to provide this technology to the public. Through their phones or tablets, the public is informed of the bins closest to them so that they can determine if these have spare capacity to take more recyclable material.
The technology which is used for the iBiN project — NB-IoT — is the first project of its kind for Malta and is enabled by Vodafone.
Vodafone Malta CEO Sonia Hernandez said that Vodafone pounced on the opportunity to partner with GreenPak to use its breakthrough technology for environmental protection.
"Vodafone is fully committed to enabling the transformation of waste management to further encourage people to recycle with confidence. Enabling positive social outcomes is integral to what we do and is at the heart of Vodafone's purpose: connecting Malta for a better future.
"We enter into this partnership with GreenPak enthusiastic of what can be accomplished together through technological innovation," Ms Hernandez said.
The system of having industrial-sized bins conveniently located in every locality for households to recycle plastics, paper, metal and glass was set up some 15 years ago.
According to figures released by the National Statistics Office earlier this year, more than 500 tonnes of recycled material was collected from such bins in 2016. But this is not enough and GreenPak is hoping the iBiNs will be instrumental in increasing usage. "Our initiative ties in with the government's objective to step up the amount of waste that Malta recycles. Every citizen has an obligation to recycle and as GreenPak we're working on making it easier for everyone to do so," Mr Schembri said.
During the first phase of the project, the iBiNs will be rolled out in: Sliema, St Julian's, Zejtun, Pembroke, Luqa, Attard, Balzan, Kirkop, Marsa, Msida, and Ta' Xbiex.
Further information may be found http://www.greenpak.com.mt.