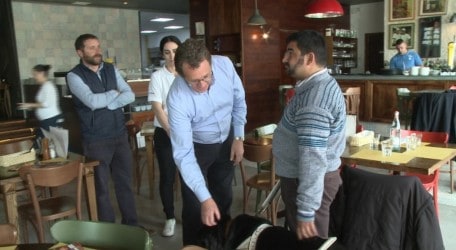 Vecchia Napoli, a restaurant in SkyParks, along with the neighbouring Beer Kitchen, both owned by Kitchen Concepts Ltd, a subsidiary of Alf. Mizzi & Sons Ltd, have accepted that guide dogs, accompanying their handlers, are allowed to patronise their establishments.
Kitchen Concepts managing director Julian Sammut welcomed Leone Sciberras, chairman of the Malta Guide Dogs Foundation, and his guide dog Aval and affirmed: "It was a big mistake. There was some confusions since we have never faced a situation where a guide dog needed to enter our premises."
In a gesture of solidarity, Mr Sammut promised to help the foundation to raise funds to provide guide dogs for the visually impaired.
Mr Sciberras commented: "All's well that ends well. We spoke about the need to differentiate between pets and Guide Dogs and other service dogs. The Malta Guide Dogs Foundation thanks you wholeheartedly and looks forward to cementing a good relationship with your organisation."
He pointed out that obstacles with other organisations, like national airline Air Malta and the public transport operator, had similarly been ironed out and these now permit guide dogs to travel.
Oliver Scicluna, chairman of the Commission for the Rights of Persons with Disability, referred to the Equal Opportunities Act which specifically mentions that guide dogs are an important means for the visually impaired to lead an independent life.
Mr Sciberras said: "This is a learning process and I am confident that other restaurants and public places will also gain similar awareness of the need for a blind person accompanied by a guide dog to be granted full access to their establishment."
For more information, visit www.maltaguidedogs.org.mt.