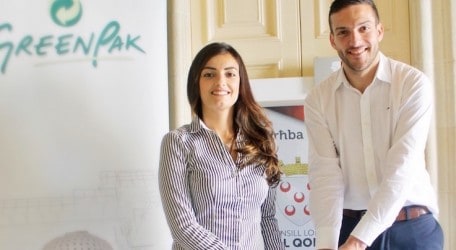 The first collection points for recycling of used batteries as part of a national battery collection campaign called BATREE are now in place. The public can drop off their used batteries for recycling at the local councils of Birkirkara, Qormi, Sliema, Hamrun, Santa Venera, Ghaxaq and Pembroke in new attractive BATREE containers. Over the coming days, more than 300 bins will be installed across Malta and Gozo, including in many schools.
All portable batteries, including rechargeable batteries used for handheld devices, such as portable lights and remote controls, from 9 volts down to button batteries used for watches and clocks, can be deposited in these BATREE containers at the respective Local Councils.

"Our campaign is accessible and aims to change battery recycling behaviour in the long-term. Unwanted batteries can easily be deposited at the nearest Local Council," said Daniel Tabone, GreenPak's Operations Manager. "Old batteries cause harm to the environment when they are disposed in the landfill. This year Malta strives to reach the EU's 45% collection target, which means that almost half of used batteries must be recycled. It is therefore very important that we recycle batteries and not dispose of them in the black garbage bags, which will eventually end up in the landfill," he added.
BATREE is a nationwide initiative for the recycling of batteries. As from this year, BATREE has replaced the government run Batterina scheme that was financed by an eco-tax system. As from this year, eco-tax has been removed and GreenPak Coop stepped in to take up the financing and responsibility to increase recycling of batteries across Malta and Gozo.
Local councils, stationers and shops wishing to participate in the BATREE campaign should contact BATREE on 21660233 or email collections@batree.com.mt