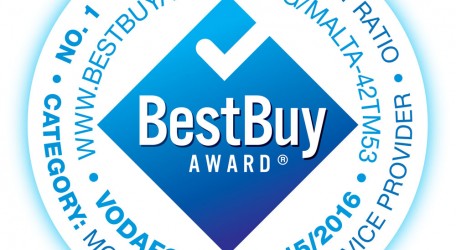 A survey conducted by the Swiss organization ICERTIAS (International Certification Association) has revealed that the majority of Maltese consumers picked the mobile telephony services provided by Vodafone Malta as offering the best quality service in relation to price. The ICERTIAS survey specifically asked consumers to select the provider that, in their personal experience, offers the "best price-quality ratio on the Maltese market." This result indicates that Vodafone customers feel that the price charged for Vodafone's services is the best available on the local market in terms of the quality and level of service it provides.
"As a service provider it's great to get the confirmation from our customers that they really feel that we are providing them with the highest quality service on the island at a good price," said Tamas Banyai, Head of Vodafone Malta's Consumer Business Unit. "I think that this stamp of approval is due mainly to the investment we continually make in our network that makes it the best in Malta. These investments allow us to continually be the first to offer new services on the island and enhance the customer experience we provide. Some of the best examples of these "firsts" are our unmatched 4G network which provides internet access for our customers on their mobile at fantastic speeds; our RELAX service that keeps customers in control of their spend when using internet on their mobiles and our unique HD voice service providing crystal clear voice calls. The Best Buy award is a great confirmation from our customers and it gives us further inspiration to bring innovation to the Maltese mobile market."
Vodafone Malta has the only 4G network on the island which now covers over 80% of the population and which offers unrivalled speed which can be up to ten times faster than using 3G. Earlier this year it was also the first operator to provide High-Definition (HD) Voice technology which was made available to all Vodafone customers with an HD Voice enabled phone on both the 3G and 4G network and at no additional cost. HD Voice has been very well received.
In April this year Vodafone also introduced RELAX, a worry-free pricing solution for postpaid customers that offers a flat rate of just 2 euros per 100MB of data used above their contractual limit and with notifications every time they use 500MBs of data. Best Buy Award certificates and medals (www.bestbuyaward.org) are awarded based on an independent market research performed by the Swiss organization ICERTIAS – International Certification Association which measure consumers experience, satisfaction and perception about the different products and services available on the market.
The Best Buy Award research study is conducted according to the provisions of the International Codex for the Implementation of Market and Social Research, which were adopted by the International Chamber of Commerce (ICC) and the European Association of Research Experts (ESOMAR).