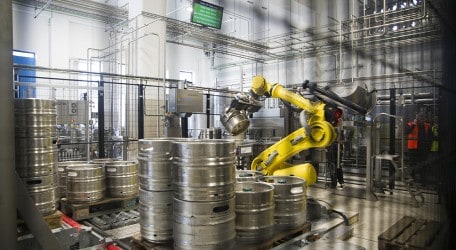 Simonds Farsons Cisk plc has registered another year of positive and robust growth. Group turnover for the financial year ending 31st January 2018 increased to a record level of €95 million, representing an increase of 7.8% over the previous financial year's results, whilst profit before tax from continuing operations increased by 18.2% to €13.4 million.
The series of investments completed by the Group over the past years, extended further by an additional €13.5 million invested in 2017, ensured that the Company is consistently and effectively equipped and resourced to respond to the dynamic local and export market conditions. Furthermore, significant efficiency gains on the production lines together with various management initiatives leading to improvements in productivity, and further contributed to these positive results.  Consumer demand across all beverage sectors improved during the year under review while the Company responded to the market in a timely and effective manner.
The strong performance for the year was also positively influenced by continued economic growth, complemented by an expanding tourism sector, prevailing favourable weather conditions besides various crowd events organised locally during the year.  
Following the successful spin-off of Trident Estates plc into a separate listed entity and the change in shareholding, the Group has disposed of its property management segment which had been classified as discontinued operations. During the Annual General Meeting held on 27 June 2017, the shareholders approved a resolution to spin-off of the company's shareholding in Trident Estates Limited through the payment of a dividend in kind by way of a distribution of the company's shareholding in Trident to the shareholders. Through the distribution of a dividend 'in kind' of €37,211,000 the Company's entire shareholding in Trident Estates Limited was passed on to the shareholders pro rata to the number of shares held in the Company.  Trident Estates plc was listed on the Malta Stock Exchange on the 30 January 2018.
Group Chairman Mr Louis A. Farrugia stated, "I am once again most pleased to report on another set of positive results achieved by the Group. This year we celebrate the 90th anniversary of Farsons brewing its first beer named 'Farsons Pale Ale' at its original brewery in Hamrun. I am indeed proud to have served forty-five of these years for a Group of Companies that has grown from humble beginnings to one that now aspires to expand and develop in markets away from our shores, and which is actively taking steps to internationalise its business model."
The Group continues to build on its two main growth pillars namely, innovation and internationalisation.  Following the significant investments made by the Group, further tapping of export markets remains a priority while management will continue to prioritize the development of products which proactively meet, and exceed, the ever evolving and dynamic expectations of its customers.
"The Group has, once again, raised the bar, pushing ahead with another strong performance as we continue to achieve year-on-year gains, both in profitability and turnover. Maintaining such momentum is no mean feat and must not be taken for granted, nor should we ever become complacent. However as we continue to reap the benefits of our latest investments, we have good reason to be quite satisfied with our results and remain confident in our ability to forge ahead," concluded Mr Norman Aquilina, Farsons Group Chief Executive. 
The Board of Directors is recommending increasing the final dividend by 8.3% to €2.6 million.