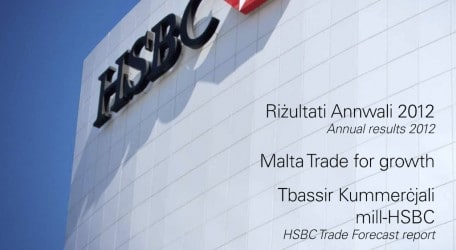 HSBC Bank Malta's fifth edition of l-azzjonist, the publication for shareholders, is available on HSBC Malta website at http://www.hsbc.com.mt/l-azzjonist.
In addition to reviewing the Bank's strong performance in 2012, this issue covers important developments, such as the recent acquisition made by HSBC Life Assurance (Malta) of the insurance portfolio of HSBC Life (Europe) and the appointment of Brian Robertson, CEO of the Group's business in the UK and Europe, as HSBC Malta Director.
Other articles cover 'Malta Trade for Growth' – a new initiative to drive international trade, the latest HSBC Global Connections Trade Forecast, the latest HSBC Malta branch refurbishments, and Corporate Sustainability initiatives carried out by the HSBC Malta Foundation.
Speaking about l-azzjonist, Head of Communications of HSBC Bank Malta, Franco Aloisio, said: "l-azzjonist offers our shareholders and other interested stakeholders with a quality, up-to-date source of reference about the Bank's affairs and topical issues. l-azzjonist also reaffirms our commitment to effective and open communication with our shareholders."