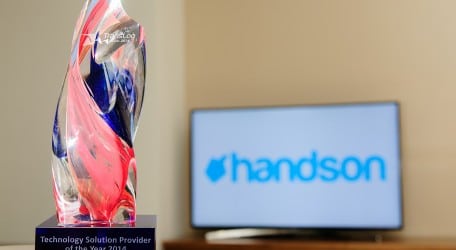 Celebrating enthusiasm, commitment and sheer hard work
HandsOn Systems has received the Translog Award for Best Technology Solution Provider. The winners in 12 categories of the first edition of these awards, organised by Support and Supply Management Group (SSM) and BPC, and supported by HSBC Bank Malta, were announced earlier this month.
The Translog Awards showcased companies and individuals who made remarkable efforts and commitments in the transport, logistics or supply chain industry during 2013.
According to HandsOn Managing Director Geoffrey Farrugia, the award is a clear demonstration that its clients, suppliers, partners and employees believe in the company's enthusiasm and commitment. "Enthusiasm is often neglected as a force. Yet without it there would be few achievements since it sets fire to the imagination," he said. "It asks 'What if?' and 'If I did?' and the results depend on the answer to those questions."
HandsOn is celebrating those who asked these questions and the Translog Award is a demonstration of the company's commitment to finding the right answers. "We are also honouring those who in our company worked late into the evening and early in the morning so that all of you can work better the next day; those of you who were dissatisfied from our mistakes and failures and thus complained or criticised us. We have learnt so much from you too!" Mr Farrugia added.
In the world of technology it will always be impossible to say that you have all the answers, but he said HandsOn will continue to seek better solutions in the years to come, a renewed commitment towards shaping its future. "HandsOn is committed to continue to deliver innovative and reliable systems to the transport sector and to improve the local economy by maximising the efficiency of all companies operating in this sector," he concluded.
The very first edition of the Translog Award Winners came to a successful conclusion during a prestigious presentation ceremony and dinner, held at the InterContinental Hotel, St Julian's, during which the winners were announced.
The other award-winning companies are: VJ Salomone Marketing, Falcotrans, Aurobindo, Sullivan Maritime, MaltaPost, Emirates SkyCargo and Express Trailers. Also honoured were Noel Ellul and Caroline Chircop, with two companies receiving special mentions: Liquigas Malta and Cyber Pass.
These awards are based on international benchmarks and values, and are geared towards performance excellence, using industry norms and standards. Nominations were judged by a panel of distinguished transport and logistics practitioners, academics and business leaders.