From left to right: Daniela Gusman, Janice Bonnici, Bernard Cachia, Clara Galea, Dean Sammut, Adrian Cassar, James Borg and Lorna Borg.
The agara Foundation, a Maltese not-for-profit foundation has partnered with rise, a US social enterprise who are piloting a program in Lesotho, which is found in the southern tip of the African continent, completely encircled by South Africa.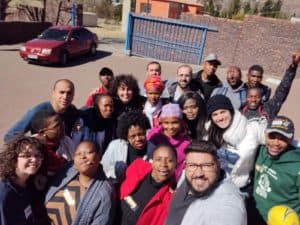 Agara seeks to invest in relationships within communities and empowers individuals by cultivating a sense of growth, self-reliance and collaboration. In October 2017, while searching for new projects to partner with, agara's team leader Adrian Cassar met with Daniela Gusman, herself a Maltese native, Founder of rise – relationships inspiring social enterprise who in turn was looking for volunteers to come to Lesotho to participate in a design & build training program called in loco which includes setting up a community computer centre.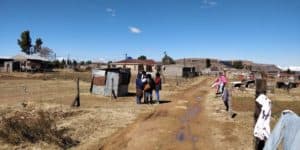 That is how this group of 7 incredibly committed, passionate and hard working Maltese volunteers ended up in Lesotho during the month of August when it's blistering hot in Malta and yet the peak of winter in the high altitude Mountain Kingdom of Lesotho, which incidentally is the only independent state in the world to lie entirely above 1000m, has the world's highest lowest point at 1,400m and has Africa's highest pub at 2873m!
During their two-week stay, the agara volunteers have been training 11 youth leaders and community members who will be running two new computer centres, one which will be located at God's Love Centre Orphanage in Sekamaneng, a town located about 15 kms outside of Lesotho's capital Maseru and the other at Paballong HIV/AIDS Care Centre, giving their local communities access to the internet and a whole program of computer training.
"We are really grateful to agara for all the long hours of incredible hard work they have put into making this program possible. We could not have set up the computer centres without their generous donation of 14 laptops and all the training they have given to the youth leaders here in Lesotho who will be running the computer facilities. It has also been really fun to have so many fellow Maltese in Lesotho!" says rise's Founder Daniela Gusman.
Equally as grateful is the Paballong Centre who have expressed their appreciation for the content and commitment of the volunteers. Gerard Mathot, Paballong's Founder says, "Now we can really start to develop the computer hub."
"Our 6th project from the PoléPolé (step by step) campaign gave us the opportunity of working in Lesotho, along with the opportunity of reusing second hand laptops from Malta. During our stay amongst this community we shared the basics of computer skills with a group of local trainees. We also brainstormed about a business plan for an IT facility in two different centres. Starting from the first day, our team managed to build a good relationship with the eleven trainees. Together we visited the community to have a better understanding of its needs. We were then able to discuss and help them design a vision for the running of the centres. Here in Lesotho, thanks to rise, I believe we found the perfect setup to run a long term sustainable project" says agara's team leader Adrian Cassar