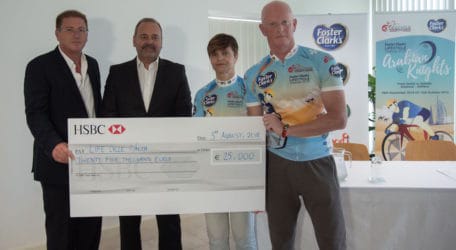 LifeCycle Challenge 2018 has sealed its lead sponsorship with Foster Clark Products Ltd for the second year running.  In addition, Foster Clark is the title sponsor of Foster Clark LifeCycle Challenge 2018 which will take place between 28th September to 12th October 2018. 
Foster Clark's Managing Director Mr Joseph Busuttil presented the sponsorship cheque of €25,000 to LifeCycle (Malta) Foundation Chairperson Dr Shirley Cefai. The presentation was held at Foster Clark Products Ltd in San Gwann in the presence of The Hon. Minister for Economy, Investment and Small Businesses Dr Christian Cardona, LifeCycle Challenge Founder Mr Alan Curry, Foster Clark's Head of Operations John Schembri, Foster Clark's Regional Sales Manager Nicolaas Fourie, and LifeCycle participants. 
"With Foster Clark's contribution to LifeCycle Challenge for the second consecutive year, we are facilitating further research studies in kidney disease, so that, eventually, renal patients will have a further improved treatment. We admire and believe in LifeCycle Foundation's mission, as it is the only dedicated NGO that has been supporting persons suffering from kidney diseases along the past 20 years. Foster Clark augurs that our initiative will be emulated by other companies and individuals in supporting LifeCycle's noble cause," said Mr John Schembri.   
The funds being raised by LifeCycle participants will go towards the needs and care of kidney disease patients. Apart from life-saving equipment and improved facilities, LifeCycle is  sponsoring the Twilight Shift Van to transport patients to and from Mater Dei Hospital for their evening dialysis, as well as the software matching programme called "Traccia" which determines the best recipient for a kidney donation. LifeCycle Foundation also offers a part sponsorship of the annual trip to Lourdes for patients and accompanying medical staff. The Foundation aims to raise a substantial sum of €150,000 to sustain its current and new projects for 2018-2019.
Whilst thanking Foster Clark for their contribution, Mr Alan Curry said that the money received today will be going towards an on-going kidney research programme at the University of Malta, which came to fruition with LifeCycle Foundation's initial donation in 2014 and again in 2017. The study is focussing on the genetics and pathophysiology of rare kidney diseases in children. 
Turning to this year's Challenge, Mr Curry described it as a very tough one. He added "Our biggest challenges, as always, are the distance, cycling every day for 10 days, and the basic accommodation in night camps, in addition to the daunting prospects of extreme heat, humidity and mountainous terrain. In terms of making it happen, it is a 12-month military style operation, which is hard work, but we love doing it. Thanks to Foster Clark and their distributors in the Gulf region, we have planned the route and all the logistics together."  
Named Arabian Knights, the 25 cyclists (22 males and 3 females) hailing from Malta, Albania, Kenya, Latvia, Poland, Spain, Switzerland and UK, will travel to Dubai and cycle 2,000 km to Salalah, in Southern Oman. The route will take the participants from Abu Dhabi to Al Ain, Dank, Nizwa and Al Wasil. From Al Wasil they cycle for three days through the desert until they reach Shalim Wa Juzor and arrive in Salalah on the tenth day.
"In the twenty years since its founding, LifeCycle has truly left a long-lasting legacy in our country. The support and long-term benefits it has provided to kidney patients and its' contributions to the University's research is unquantifiable. I wish our athletes well in this gruelling challenge ahead. Foster Clark's, and the many other businesses involved, are leading by example how enterprises can give back to their community," stated Minister Cardona.
LifeCycle Challenge is also supported by StartUp Malta, LaFerla, NexiaBT, Positive VibrationsTattoo Studio Malta, SR Technics, St Michael School and St Michael Foundation, Tri-Mer Services Ltd, The Alfred Mizzi Foundation, GIG, P Cutajar, Premier Capital, API Technologies Corp., Attard Brothers Group of Companies, M.Demajo Group, de Rohan, Medelec, OilTanking, KBC Euro, Salini Resort, Bioness, Collis Williams, Credorax, Dorado Games, EF Management Consultants, EY, Gollcher, GTG Advocates, J. Lautier, Crimsonwing, M.A.&A., MIDI, Maypole, Omni Freight Services, P2M, RS2, Satariano, Striped Sox, 1st Cospicua Scout Group, Carmelo Delia, Vodafone Malta Foundation, EFQ Management Consultants, Techwood International and BPC amongst many other businesses and private individuals.   
One can donate via sms: 5061 7370 = €2.33; 5061 8920 = €6.99; 5061 9229 = €11.65; or via a call to 5160 2020 = €10, 5170 2005 = €15; and 5180 2006 = €25. Bank details are Swift code VALLMTMT, IBAN number MT 18 VALL 22013000000014814521017, Bank name Bank of Valletta, Account number 14814521017.
For more information about LifeCycle Foundation and Foster Clark LifeCycle Challenge 2018, please visit  HYPERLINK "http://www.lifecyclechallenge.com" www.lifecyclechallenge.com