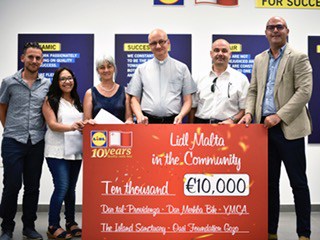 The sum in Lidl vouchers was split between "Id-Dar Tal-Providenza", "Dar Merhba Bik", "YMCA", "OASI Foundation" and "The Island Sanctuary".
Lidl Malta, the country's leading supermarket with eight outlets spread around the Maltese Islands, is celebrating its 10 year anniversary. To mark this milestone, the Company organised a number of activities and events for its employees, its clients and the Maltese society in general. One of the events taken up by Lidl Malta as part of its Corporate Social Responsibility programme, is the donation of €10.000 worth of Lidl Malta vouchers given to 5 NGOs representing different areas of the Maltese community. 
"Id-Dar Tal-Providenza", "Dar Merhba Bik", "YMCA", "OASI Foundation" and "The Island Sanctuary": these are the 5 NGO's that have received the donation during a ceremony that was held on July 11th by Lidl Malta's Head Office in Luqa. "We have the Maltese society at heart and realise the importance of our role in the community. We consider ourselves to be part of the society in which we operate and we want to make our contribution, not only through our daily work but also through practical and locally rooted initiatives. Our 10 Year Anniversary is a very special occasion for us therefore we want to share our success by celebrating with our clients, our employees and also the community which surrounds us. We have selected these 5 different NGOs because they touch different social aspects, all of which are equally important, and we hope to aid in their noble missions" said Mark Farrugia, Regional Director of Lidl Malta.   
Apart from this donation and the local CSR projects that are being carried out on a monthly basis, Lidl Malta was once again the main sponsor of the annual Puttinu Cares Football & Volleyball marathon earlier in May and will be supporting the President's Fun Run later on during the year.