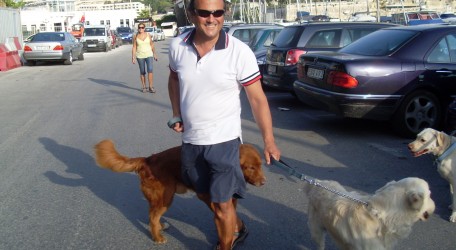 Fleur Marie Cilia Buckett is the president of the voluntary group WEEAC MALTA – Worldwide events end animal cruelty.   A woman who is extremely passionate about her cause, she has just organised her second dog walk, a peaceful event for animal lovers and all dogs. Despite various activities taking place on last Saturday, it was  huge success which took the animal lovers from Ta' Xbiex near the Black Pearl to Bisazza Street, Sliema and ended with a candle lit vigil.  Present for the event were David Agius, Simone Cini and a representative from AD while Shauna Vassallo performed a heartbreaking song called Fejn.
In her speech, Ms Cilia Buckett (pictured below) thanked the Hon. George Pullicino for finishing the horse shelters in Valletta. She pointed out that while protecting our tradition is important, this does not  justify the misery inflicted on these animals, whose plight is shocking to many tourists who witness it.
"Why can't our traditions take place after 6pm in summer with karrozin rides being offered in the evening? Apart from being a lovely experience, it's a lot less cruel to animals."
Weeac (Worldwide Events End Animal Cruelty) is a fairly new concept in Malta. Last year's first walk was a success, with around 200 people attending . This is an annual event and an annual opportunity to raise awareness on this issue.
The organisation hopes to focus on stray animals, and the need to have them neutered while more educational initiatives and campaigns endorsed and supported by government need to be implemented.
The sponsors for the event included Sarah and Charlie Cardona of Blends of Nature  Christopher Bonello of Toyco for the  frontline banner and  Fiona Ciappara of H2o who sponsored bottled water for us and our dogs. Michael Robert Jackson provided a PA system while Clayton Azzopardi of Heavenly Kiosk in Ta' Xbiex provided the electricity supply and microphone.  Medistar Healthcare for provided animal and human ambulances and special thanks to Matthew Wismayer from Prince for the printing of 500 fliers.
Thanks also goes to Janice Darmanin from the TV programme Chit Chat who invited Fleur  to speak about the issue.  Last but not least, thanks to Island Sanctuary, Association for Abandoned Animals, Funny farm, Sea Shepherd Supporters Malta and Max Farrugia of IAR – International Animal Rescue Malta.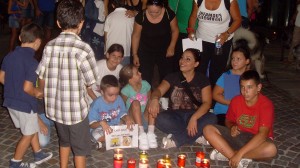 For more information join the Facebook page
http://www.facebook.com/groups/262139250498749/
or visit Fleur's website
http://www.marchinmalta-allunitedagainstanimalcruelty.com/