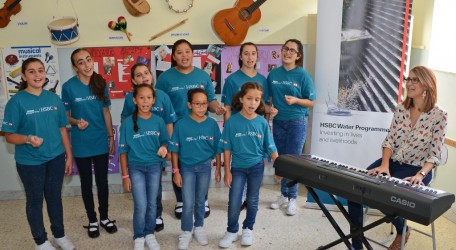 Through the support of HSBC Bank Malta's Water Programme, a group of students who attend Our Lady Immaculate School (OLIS) in Ħamrun has recorded two original international songs in support of 'Catch the Drop' initiative. The songs embody the spirit of HSBC's three-year-long, €500,000 initiative which raises more awareness of water scarcity in the islands and stirs action around water conservation.
The group of nine students were the vocalists for the songs, with lyrics and music created and performed under the direction of OLIS' music teacher Maria Cachia Abdilla, a certified IVA Vocal Instructor, in collaboration with Maestro Sandro Crippa from Florence.
With their long history of collaboration, the duo has previously worked together in the Gen Fest 2012 Sportarena, Budapest and Life Love Light 2010 Nervi Hall, Vatican City.
Earlier in May, OLIS, led by school principal Audrey Galea, proposed the idea of two international songs to HSBC Bank Malta during a 'Catch the Drop' campaign stopover while being visited by HSBC Global Corporate Sustainability senior manager of Environmental Programmes, Sue Alexander. The team was moved by the proposal and work began in earnest, from writing of lyrics, to selection auditions to recording.  Currently, the songs are being finalised and will be launched at the start of 'Catch the Drop' campaigns for scholastic year of 2014-15.
Sue Alexander commented: "The passion and enthusiasm of the students shine through this excellent musical work from their teacher, Maria Cachia Abdilla and Maestro Crippa."
The Catch the Drop campaign is a national environmental and educational campaign for sustainable water in Malta. Launched in October 2013, it will run until 2016.