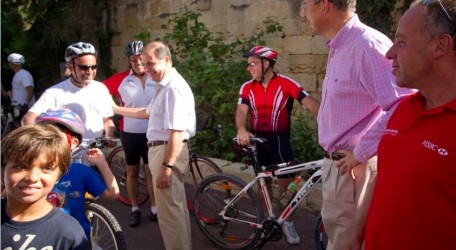 Pictured above: President George Abela greeting participants of the HSBC Staff Triathlon held in aid of L-Istrina, together, with HSBC CEO Mark Watkinson (second from right)
Over 70 HSBC employees ran, swam, cycled, and walked their way across the Maltese islands for the 4th annual HSBC triathlon challenge. Organised by the HSBC Malta Foundation together with the Bank's Sports and Social Committee, the triathlon raised funds in aid of the Malta Community Chest Fund's L-Istrina.
The freestyle triathlon took off with a run in Gozo, from Għarb to Ħondoq ir-Rummien,  after which participants swam from Ħondoq to Malta through Comino, ran through Ċirkewwa and Marfa, then cycled to Ta' Qali National Park. A "cool down" walk brought participants to the President Residential Palace at San Anton where they were greeted by President George Abela, HSBC's CEO Mark Watkinson and representatives of the Malta Community Chest Fund.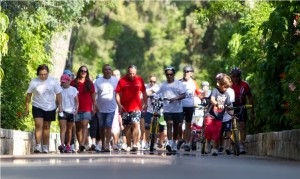 No hard and fast rules restricted how long a participant chose to swim, cycle, run or walk but the overall distance of 50 km was covered collectively as a group. The sum collected from the triathlon was topped up with proceeds donated by employees as part of a Dress Down Day held recently at HSBC, and organised specifically in support of L-Istrina.
"L-Istrina is a major charity event, and one that is close to the heart for us all at HSBC," said Mr Watkinson. "Special thanks go out to all those involved in this fund-raising challenge. Their efforts contribute towards a very worthy cause."