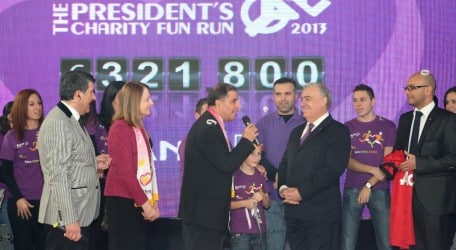 In keeping with tradition, Banif Bank topped the list of donors at the L-Istrina charity telethon, by making the largest contribution of €321,800.00. The sum was collected via The President's Charity Fun Run held earlier this month – an event that attracted a record 14,600 runners and joggers who dared the possible inclement weather to keep their annual date. Pledging to double the sum collected through the event, a team from Banif led by Chairman Dr Michael Frendo went on stage in the evening at the Mediterranean Conference Centre, to make the hefty donation to a beaming Dr George Abela, and pushing even further the day's amount of funds. Through its agreement with the Manchester United Football Club, Banif Bank also gave up two signed Man Utd shirts, that will be auctioned in a L-Istrina spin-off event.
"Every year, motivated by a great sense of compassion and touched by the public's regular positive reaction, the team at Banif comes together to work hard at a non-profit community project, underpinned by the strong relationship the Bank has with the Office of the President."
Supporting the President's Charity Fun Run since its inception five years ago, Banif Bank has made a collective contribution of €1,106,274 to the Malta Community Chest Fund, through L-Istrina.