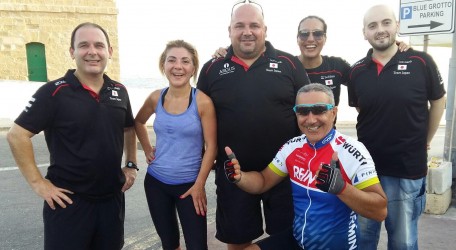 Pictured above: Alive Cycle Challenge participant Max Borg Bonello (kneeling) with other Argus employees including Chief Executive Dr Vanessa Borg (second from right)
Argus Insurance Agencies Limited recently organised a fun bike ride from Rabat to Zurrieq in aid of the Alive Foundation, which raises funds to support cancer treatment research. All employees took part in the event, either by cycling, or jogging the distance of around 14 kilometres. The employees were led by Max Borg Bonello, a recent Argus employee who is taking part in the Alive Cycle Challenge. The 7 day Challenge, which ended on Sunday 16th July, saw 46 participants cycle from Copenhagen in Denmark to Warsaw in Poland, a distance of about 1,200 kilometres.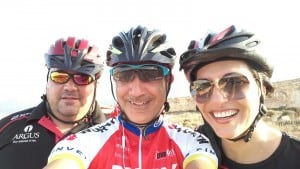 In supporting Borg Bonello's participation in the Alive Cycle Challenge, Argus provided flexible hours and donated leave days so that he could follow his training plan. The company has also dedicated its donations toward the Alive Foundation, encouraging its employees to financially aid the cause. A group of employees, including Chief Executive Dr Vanessa Borg, also attended a dinner organised by the Foundation.
For more information on Alive Charity Foundation and to make your donation towards cancer research, visit: http://alivecharity.com/2017/.
For more information on Argus Insurance Agencies Limited and their insurance products, visit: https://www.argus.com.mt