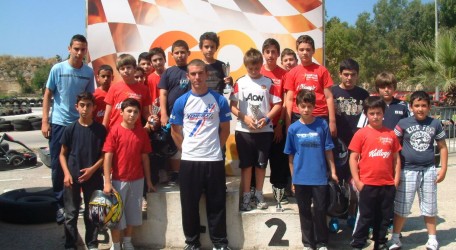 Pictured above: The young KMS Skolasport badger karting students posing for a group photo with their trainer Gianluca Dingli (centre)
A group of 19 young KMS Skolasport participants tested their mettle against each other in a competition organised by the Ta' Qali Badger Karting Raceway in aid of l-Istrina. The event proved to be a success with proud parents and friends alike cheering and encouraging the young drivers as they raced past the corners.
For the first year, KMS Skolasport, sponsored by Kellogg's, has taken the karting training to a higher level, introducing the Advanced level in karting.
Most of the promising drivers that participated at the event have started their karting training with KMS Skolasport programme and they are now training with their own go-karts. Advanced participants of KMS Skolasport programme include: Kyle Mercieca, Nicky Gauci, Andreas Camilleri, Mark Anthony Borg, Nathan Grech, Marcus Sammut, Jeremy Bartolo, Conner Micallef, Nicholas Zammit, Matthew Bugeja, Zack Borg Ginger, and Terence Grech.
The KMS Skolasport provides the necessary introductory basics to this fast growing discipline, every Saturday morning at the Ta' Qali Badger Karting Raceway under the tuition of Edwin Gauci and the local rising star Gianluca Dingli, a former Skolasport participant.
The fact that this sport discipline is practiced in a safe and professional environment; it also provides an ideal platform for learning the basics about competition racing, vehicle setup and engine tuning.
As promoters of good nutrition and physical exercise for a healthy well-being, Kellogg's invests in KMS Skolasport and its endeavours, thus encouraging Maltese children to become active and live a healthier lifestyle through sports.
On Sunday 9th December, KMS Skolasport will be promoting its karting sessions, including the newly launched Advanced lessons at the highly anticipated event 'Paqpaqli għall-Istrina'.
For further information about Karting, as well as any other sport discipline offered in the Skolasport Programme, kindly contact the Programmes Section at the Kunsill Malti għall-iSport Head Office on tel. 21660658/9 or via e-mail: [email protected] or visit the KMS website: www.sportsmalta.org.mt