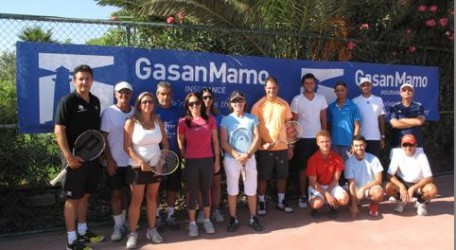 GasanMamo recently supported a series of workshops for Maltese tennis coaches in their drive to improve the playing skills of the younger tennis players based in Malta.  The workshops, launched in May 2012 were organised in conjunction with the International Tennis Federation as part of Malta's Tennis 10s Program.
"We see sport as a very important element in children's lives," said Julian J. Mamo, Director at GasanMamo.  "We hope that through our contribution we will further help these coaches in teaching the actual game of tennis and not just a remote set of skills as most do at present. We are therefore helping these children to be motivated and to stay in the game as they play and progress."
The workshops served to further educate Maltese tennis coaches from all clubs on how to run junior tennis festivals within the rules and guidelines of the Tennis 10s program and were conducted by Ronald Pothuizen and Mike Barrell, experts in the field of Tennis Coaches Education. Both have worked with several Tennis Federations around the world including the United States Tennis Association and the Australian Tennis Federation.
Local tennis clubs that are a part of the Malta Tennis 10s programme, a discipline which provides a sound developmental structure for players aged 10 and under, through three-colour-coded stages – red, orange and green are now working together to organise regular National Junior Tennis Festivals in the Under-8, -10 and -12 categories.
"Results of the program are already evident," said Claire Arrigo, Tennis 10s Co-ordinate for Malta. "The first Festival held on 1st May drew 64 juniors from ten different clubs. With GasanMamo's continual support our first workshop was a huge success. Through these funds we will therefore be able to continue our support towards junior tennis players to improve their game whilst enjoying practising the sport."