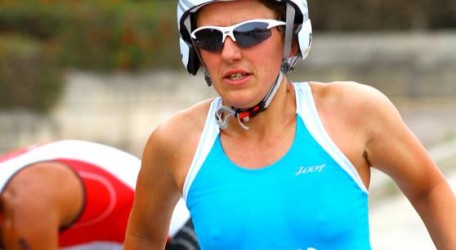 BMIT Ltd, Malta's leading data centre, cloud and managed services provider announced that they have entered in a sponsorship agreement with Michelle Vella Wood, one of Malta's top athletes, to assist her in her participation in leading triathlon events, including the Austria Ironman Triathlon in June, the National Triathlon Championships in October and the B'Kara St Joseph Triathlon series.
"We are proud to be associated with Michelle. Her commitment and performance in such an endurance sport is an honour to her and to the local sporting community and as BMIT we are very pleased of this agreement," said Jack Mizzi, Chief Marketing Officer of BMIT Ltd. "Our support will also help Michelle in her forthcoming events, and especially her participation at the Austria Ironman in June.  A 3.8 km swim, followed by a 180 km cycle and then a full 42.195km marathon run sounds daunting enough, but we are sure that Michelle can improve on her best performance so far and continue to add to her recent successes. ."
"Thanks to the support of organisations like BMIT Ltd, I am now able to concentrate on the sport and work harder in achieving what I have dreamt of over the years," said Michelle Vella Wood. "My targets this year include the Ironman Austria race which will be held on 30 June in Klagenfurt in Austria, the B'Kara St. Joseph Sprint Series, including 750 metres swimming, a 20km bike and a 5km run, held in Salina, where I will be looking to achieve a time of around 1hr 5min and finally the National Triathlon Championships, held on the first Sunday in October, with a 1.5km swim, a 40km bike and a 10km run, also held in Salina," she concluded.
Michelle Vella Wood, who will be sponsored by BMIT Ltd, is amongst the most successful athletes in Malta. As a 31 year old mother of a 2 year old daughter and a PhD student, Vella Wood has been competing since she was 10 years old and has achieved numerous achievements, including three-time champion of the National Duathlon Championship and 2nd place at the Malta Marathon and Cycling Time Trial Championship. This year, Vella Wood has already been on the podium in all the races she has taken part in, including 3rd place at the Malta Marathon, 1st place in the Mellieha AC Duathlon, 2nd Maltese in the Cycling Tour of Malta and for the 4th time, 1st place in the Birzebbuga Middle Distance Race and most recently, winning the National Duathlon Championship on the 18th May.