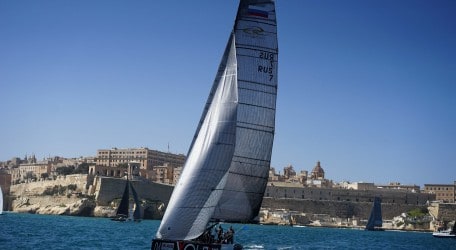 ARQ Group is proud to announce that for the second year running they will be both supporting partners and official sponsors of the prestigious RC44 Valletta Cup. This year's event started in Bermuda in March, and the final race of the season will take place between the 23rd and the 27th of November in the waters of Malta's capital city. The closing race
will be set against one of sailing's most spectacular backdrops and will be an exciting end to what has been a memorable season.
The defining spirit of this world-famous series is that of combining the worlds of business and sailing by giving amateur owners the opportunity to pilot high-performance yachts in some of the world's most beautiful locations, whilst pitting their talents against some of the major names in yachting. This year's event will celebrate the 10th anniversary of the RC44 series and will welcome a host of both amateur and professional sailors from all over the world to race beneath the 500-year-old fortifications of Valletta and the Three Cities. So far this year, the RC44 series has raced from Bermuda to Sotogrande between 2nd and 6th of March before heading to Spain and Portsmouth and finally Portugal between the 21st and 25th of September.
Christian Farrugia, director of ARQ Group spoke with anticipation about the upcoming event, stating that:
"ARQ Group is very proud to be sponsoring the RC44 Valletta Cup once again this year. This is a high-profile yachting event which brings together some of the best yachtsmen in the world in a series of competitive races that are breath-taking to watch. The event will also showcase Malta and the unique bastions of its capital city, Valletta, to a global yachting audience which includes many who may not know much about the island and what it has to offer. ARQ Group is at the forefront of the promotion of Malta as a reputable maritime, aviation and financial services centre and supports any initiative which throws such a positive spotlight on the jurisdiction."
For more information and live updates during the RC44 Valletta Cup visit arqgroup.com and rc44.com