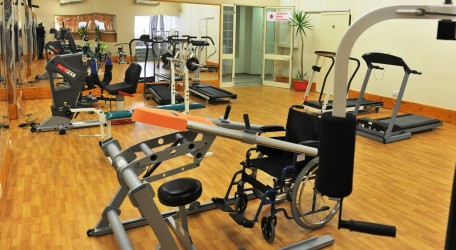 Vodafone Malta's ongoing commitment to carry out voluntary work within the community recently extended to Gozo with a CSR Day at Dar Arka in Ghajnsielem.  Vodafone team members helped out with home's residents and opened a gym financed by the Vodafone Malta Foundation.
The gym supported by the Vodafone Malta Foundation was officially opened and blessed by the Vicar General for Gozo Mgr. Giovanni Bosco Gauci.  True to its commitment the Foundation constantly supports different projects within the Arka Respite Centre. These have included the building up of a multi-sensory studio installed in 2007 and the building up and installation of a playing field specifically designed for persons with disabilities as well as the upgrading and refurbishing of the home's gym.
The gym project included the removal of the old flooring which has now been replaced by non-slip vinyl. Walls were covered by unbreakable mirrors creating a safe environment for all. Moreover, thanks to the financial support of the Vodafone Malta Foundation, specifically designed gym equipment was purchased for disabled persons who are wheelchair bound. This equipment can be used without the need of any assistance.  Other equipment has also been bought for non-wheelchair users.
Over the last ten years the Arka Foundation has administered the Arka Respite Centre in Ghajnsielem where persons with disabilities and their families are provided with a vast range of respite services. The good relationship established throughout the years between Arka Foundation and the Vodafone Malta Foundation has been strengthened providing opportunities for collaboration for the benefit of persons with disabilities.
Mgr. Giovanni Bosco Gauci said "The Vodafone Malta Foundation is a good Samaritan providing the much needed help and assistance to those who cannot reach their goals on their own.  Without this support this gym would certainly never have materialized." Vodafone Foundation administrator Roberta Pace expressed her satisfaction for a job well done and augured there would be more opportunity for collaboration in the future.