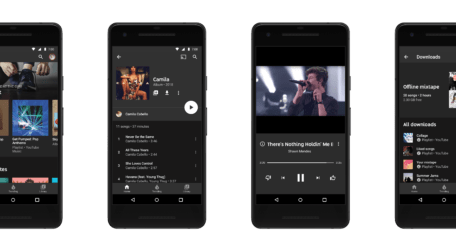 Your Personal Guide Through the Complete World of Music
YouTube has announced today the availability of YouTube Music and YouTube Premium in Malta. YouTube Music is a new music streaming service made for music listening, on top of the magic of YouTube: making the world of music easier to explore and more personalized than ever. Whether people want to listen, watch or discover – all the ways music moves them can be found in one place on music.youtube.com.
"From theCoachella livestream to massive videos like "Me!", "Boy With Luv" and "thank u, next", people come to YouTube to be part of music culture and discover new music. But YouTube was made for watching, which meant fans have had to jump back and forth between multiple music apps and YouTube. Those days will soon be over," said Azi Eftekhari, Head of Label Relations, EMEA, YouTube. "Today, we're excited to bring YouTube Music and YouTube Premium to Maltese users".
The new service comes with several features helping music fans to make the most of their music:
It's ALL here. Not just music videos, but official albums, singles, remixes, live performances, covers and hard-to-find music you can only get on YouTube.
Recommendations built for you. A home screen that dynamically adapts to provide recommendations based on what users have played before, where they are and what they're doing. At the gym workin' on that fitness? Escaping during your commute? The right music is right here, built just for you.
Thousands of playlists across any genre, mood or activity. That means no matter what kind of music you like, where you are, what you're doing, or what mood you're in, you can easily find the right playlist for that moment. Try "Blogged 50" to discover new music or "Indie Under Pressure" to get the heart rate going.
Smart search so we'll find the song, even if you can't remember what it's called. Try "that hipster song with the whistling" or "That rap song with flute" – We got you. You can also search by lyrics (even if they're wrong). It's "Starbucks lovers," right?
The hottest videos. We'll keep you on top of what's hot! The hottest videos in the world right now are right there, on their own dedicated Hotlist screen.
No internet? No problem. Get YouTube Music Premium to listen ad-free, in the background and on-the-go with downloads. Plus, your Offline Mixtape automatically downloads songs you love just in case you forgot to.
While fans can enjoy the new ad-supported version of YouTube Music for free, YouTube is also making available YouTube Music Premium, a paid membership that gives you background listening, downloads and an ad-free experience for [EUR6.99] a month. Music fans can get one month free of YouTube Music Premium here, ([EUR6.99] per month after).
YouTube Premium also launches today
Starting today, users in Malta can also upgrade to YouTube Premium, providing members with the benefits of Music Premium, plus ad-free, background, and downloads across all of YouTube. This means it will be possible to enjoy the full slate of YouTube Originals shows and movies, including the series like Cobra Kai and many more. Users can try YouTube Premium free for one month here, ([EUR8,49] per month after)
Google Play Music subscribers will automatically receive access to YouTube Music Premium at their current price as it becomes available there. Nothing is changing with Google Play Music – users will still be able to access all of your purchased music, uploads and playlists in Google Play Music just like always.
YouTube Music and YouTube Premium are rolling out to users in Malta starting today.
The new services are available for both iOS and Android users. Users can get the new YouTube Music from the Play Store and App Store or check out the web player at music.youtube.com, while they can signup for YouTube Premium at youtube.com/premium.