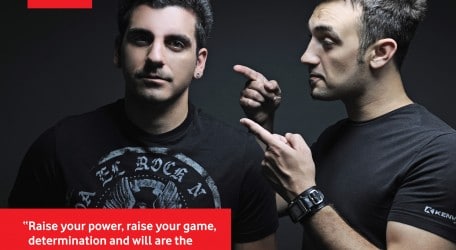 Vodafone is offering a unique chance for all singers to literally Raise their Game by teaming up with world-renowned duo Tenishia in a bid to attract the best talent around and search for a local voice to join them in their continued success.
Thanks to Vodafone, all singers, particularly budding ones, are being given this opportunity of a life time to take part in the upcoming projects of duo Tenishia, Cyprian Cassar and Joven Grech.  The good news is that they are not just interested in trance but in various voices from different genres of music. Those interested to raise their game are requested to send their voice demo on CD along with an application form that can be downloaded from Vodafone.com.mt/raiseyourgame
Duo Tenishia, have raised their game both locally and internationally as once again they made it to DJ MAG top 100 DJs and this year they improved their placing by more than 40 positions, making it to the 50th place.
Maria Vella Galea, Brand Manager at VodafoneMaltasaid that this initiative offers a great opportunity to talented singers who really have something to offer. "This is an exceptional opportunity for budding singers who believe they have what it takes." She explained the Raise your Game concept stating that, "Raise your Game is all about offering the Maltese people a once in a life time opportunity. Our commitment is to continue offering opportunities to all to raise their game by building on the RaiseYour Game activities that Vodafone ran last year extending it to this unique opportunity for anyone to strive to be the voice that will accompany 2 of the top DJs in the world"
This event is yet another part of the Raise your Game initiative launched by Vodafone in October 2012. The telecommunications company believes that the Raise Your Game philosophy is ingrained in the way Vodafone acts as well as through the initiatives that it has introduced to help people maximize their potential. This is an initiative that goes beyond the commercial parameters. Vodafone is promoting a positive attitude which encourages all to do better in everything they do, even in those small, insignificant actions that are perform throughout the day, which will ultimately help make a big difference.
"Raise your power, raise your game, determination and will are the road to your fame. It happened to us and it can happen to anyone else," concluded duo Cyprian Cassar and Joven Grech.