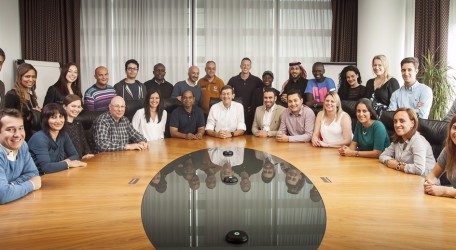 Daniela Abela, Vodafone Malta's Annual Global hero for 2014/15, a Customer Experience Delivery Senior Executive in the company's Commercial Operations Group , has recently returned from London where she attended the Annual Global Hero Recognition Event. Daniela was joined by twenty-eight other Vodafone Global Heroes from across all Vodafone's Operating Companies.
This special event consisted of an all-expenses paid International VIP weekend trip to London, where the Heroes were treated to a number of specially-organised sightseeing trips, including a private viewing of the London Eye and a visit to a top theatrical show in the West End. A highlight of the trip was a visit to the Vodafone Offices in Paddington where they were warmly welcomed by the entire staff and where they met the Chairman of the Vodafone Group, Vittorio Colao.
"Being awarded the Vodafone Global Hero is a great honour and I feel privileged to have been the employee selected from Vodafone Malta for this award," said Daniela. "The VIP weekend in London was truly a memorable experience, not only because we were treated so well but also because it was such an eye-opener to meet other Vodafone employees from so many different parts of the world. It made me realise that although our personal experiences may be different, we share a special sense of belonging and a way of looking at things that is uniquely Vodafone."
The Vodafone Annual Global Heroes is an award dedicated to high performers and role models who behave in 'The Vodafone Way'.  Heroes from across all markets where Vodafone operates are selected on an annual basis and are recognised for their outstanding contribution and for the results they bring to the company's success.