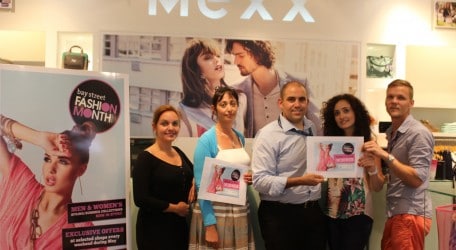 Pictured above: Philip Galea, Marketing Executive at Bay Street (centre), is seen presenting the voucher to Janica Vassallo and Aivar Margus of MEXX in the presence of Samantha Selby, Marketing Executive of HSBC Merchant Services
May Fashion Month came to a successful conclusion at Bay Street last month with both the retail outlets and the restaurants reporting increases in business, along with a 12 per cent increase in footfall throughout the shopping, leisure and entertainment complex in St George's Bay.
Bay Street Fashion Month kicked off with a press conference for the launch of the Mercedes-Benz Malta Fashion Week. This was followed by a warm-up party at Mangano Fashion Café on Level 1.
Every weekend during the month-long event, a selection of Bay Street retailers created fashion displays in the Rotunda on Level 0 of their Spring/Summer 2013 Collections, alongside a range of weekend offers, and a Shop & Win competition to win a trip to New York.
Shoppers who made their payment using the HSBC Merchant Services POS at any Bay Street outlet during May could enter the Shop & Win competition with the prize being a trip to New York, the world's fashion capital. The shop with the winning customer also had an extra incentive to win a €500 staff night out for their team, courtesy of HSBC Merchant Services.
The winner, Mrs Caroline Sammut, who made a winning purchase in MEXX, has a choice of two four-star New York hotels: The Roosevelt, which is situated in central New York and within walking distance of Grand Central Terminal, The New York Public Library, and The Chrysler Building; or The New Yorker, which is near the famous Madison Square Garden, Times Square and the Empire State Building.
"My experience in store at MEXX was phenomenal," Mrs Sammut said. "My husband and I even mentioned how helpful the staff were when we left the store and how nice it would be if they won their incentive. I am absolutely over the moon to be the winner of the New York Shop & Win competition held at Bay Street.
"Furthermore I am so glad that the MEXX team won €500 towards a staff night out, as they absolutely deserve it. A huge thank-you to HSBC Merchant Services and Bay Street."
Charis Mallia of MEXX said: "The HSBC Merchant Services Shop & Win Competition provided an excellent incentive for VF Group's fashion advisers at our MEXX store in Bay Street. The competition created an ideal competitive environment vis-à-vis other stores in the complex.
"This gave our employees the opportunity to work as a team by giving MEXX customers a great shopping experience, presenting them with a range of clothing and accessory lines for men, women and kids. On behalf of MEXX we congratulate our customer and the winner of the wonderful prize, as well as our team at MEXX for their efforts and excellent service – we are certain that they will have a great team building activity."
For more information telephone 2138 4421 or go to the Bay Street Facebook page www.facebook.com/baystreetmalta.