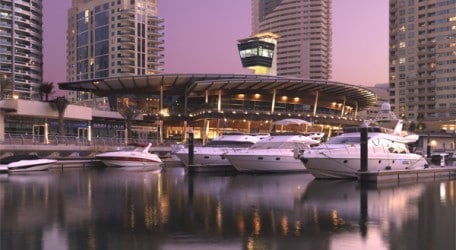 Pictured above:  Dubai Marina Yacht Club
Dubai Stopover packages starting from US$48 per person
Getting a flavour of Dubai on a stopover trip has never been easier. The Dubai Stopover programme offers attractive land arrangements in Dubai when travelling on Emirates airline, the global connector of people, places and possibilities.
Starting as low as €35 (US$48) per person/night (based on two nights and twin-sharing accommodation), the Dubai Stopover allows Emirates' transit passengers to explore this dynamic destination that will host the World Expo 2020.
Dubai is home to the world's tallest building – the Burj Khalifa, the world's largest mall – The Dubai Mall, and home to a melting pot of people from over 200 nations. Dubai is where east meets west, and tradition blends seamlessly with the modern. Visitors to Dubai can experience both the benefits of a cosmopolitan city enriched by multi-cultural influences and the heritage of an Arab nation.
The city offers a wide range of attractions, activities, festivals, shopping and cuisine suited for every type of traveller. Where else can you boast of being able to ski on sand, sea and snow – all in one day?
Transiting passengers who avail of Dubai Stopover will enjoy a range of benefits including:
A choice of over 80 hotels, resorts and apartments with a wide range of room types
24-hour check-in/check-out at over 60 of these hotels and apartments
Buffet breakfast
Meet & Assist at Dubai International Airport
Transfers to and from the hotel
Complimentary visa for a one night stopover*
96-hour and 1-month Visa available for longer stays**
Access to choose from a variety of tours and excursions mostly provided by Arabian Adventures, Emirates' Destination Management Company (DMC)
All taxes and service charges
*Extended only to Transit passengers who have a maximum stay of maximum 36 hours in Dubai
**Additional fees will apply
Dubai Stopover can be pre-booked, or arranged at Dubai Airport on arrival. Inclusions may vary for DSO packages purchased on arrival. Terms and conditions apply to all packages. For pre-booking – once your Emirates flight has been confirmed and paid for, contact your travel agent or the Emirates office nearest you.
On arrival, proceed to the Dubai Stopover desk of Emirates at Terminal 3, and at the Arabian Adventures Dubai Stopover desk at Terminal 1.
Emirates operates daily scheduled flights from Malta to Dubai, of which four weekly flights fly via Larnaka, Cyprus, on Mondays, Wednesdays, Fridays and Saturdays. While on Sundays, Tuesdays, and Thursdays, Emirates operates direct flights from Dubai to Malta and return flights fly via Tripoli.