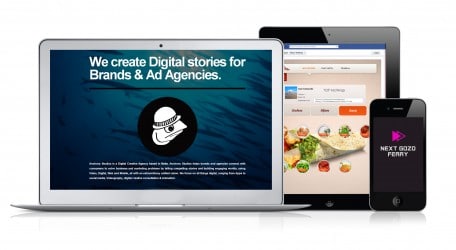 You've heard the term. You've been told it'll help your business.  Social media is word of mouth on steroids. Your "fans" can go from customers to ambassadors of your brand in an instant.
Anchovy Studios, an up and coming Digital Creative Agency is assisting brands and agencies connect with consumers to solve business and marketing problems by telling compelling stories. The young startup with an unforgettable name and fishy logo is a pioneering digital creative studio, specializing in online strategy building, mobile Apps and Social Media campaigns.
Anchovy Studios recently embraced the shift towards social media marketing, signing a new and exciting partnership with IM.MK a leading international Facebook® Preferred Marketing Developer.
IM.MK helps to transform ideas into an effective Facebook apps and Facebook marketing campaigns, resulting with more than 150 successful Facebook campaigns that helped brands such as McDonald's and Microsoft to meet the right customer needs. According to Nikola Bojkov, CEO at IM.MK." "We utilize our Facebook development passion and social marketing excitement, to facilitate the true love between people and brands. So, together with Anchovy Studios we are ready to socialize the business core and meet our clients' goal for lots of shares and likes."
This partnership is a major breakthrough for a Maltese digital creative agency, allowing Anchovy Studios to create truly powerful, feature-rich competitions with beautiful interfaces.  "We are very excited by this new partnership, we now have a solid foundation from which we can expand both locally and internationally." said Benji Borg, Anchovy Studio creative director.
The Preferred Marketing Developer (PMD) program is a community of best-in-class developers focused on making social marketing easier and more effective. With 260+ members in 35+ countries, PMDs are the social experts at the forefront, helping marketers and advertisers establish and grow lasting connections with customers.