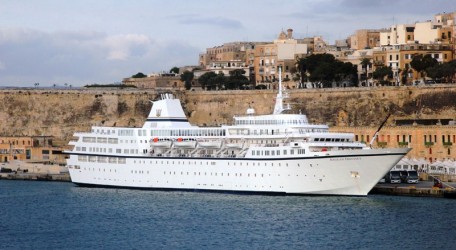 Maltese ship agency MPC Shipping has been appointed local agent to handle portside services for vessels represented by Intercruises SA calling in Malta. The first call under this new partnership was the cruise ship Aegean Odyssey at the Valletta Cruise Port last Sunday. The cruise is contracted to make additional calls later this year and next year.
Intercruises SA have offices and partners all over the world, with experience to provide first-class ground handling and port agency services to the ocean and river cruise industry. To offer such a one-stop-shop service, they partner with teams in different countries to be able to provide local insight and practical knowledge that is enhanced by global expertise and presence.
MPC Shipping is part of the Melita Marine Group, established in 1989, specialising in various sectors in the maritime industry, from superyachts, to refitting, repairs, engineering and chandlery,  oil and gas and power generation. Over the last few years, the Group has expanded to enhance services to the commercial and passenger industries and offer ship agency services for vessels calling in the Maltese islands.
MPC Shipping's Leonard Cole said: "We provide 24/7 services, catering for all types of vessels having professional employees and a hands-on customer service team experienced in multi-trade logistics and operations, specialising in passenger vessels, container liners, conventional vessels, bulk and cable carriers, oil rigs, supply vessels and the oil/gas industry. We also meet freight forwarding requirements within the Group. Whatever the logistics or operational needs, we're there to provide the necessary link in the supply chain."