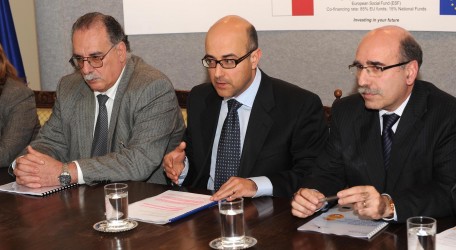 In a press conference, Jason Azzopardi, Minister of Fair Competition, Small Businesses and Consumers launched an educational and informative campaign on the rights and obligations of Maltese and Gozitan consumers. The Minister explained how the entire project is worth €534,024, with 85% of funds co-financed by the European Union and 15% of funds co-financed by the Government.
He explained how this educational campaign will focus on consumer and competition rights and on the obligations and rights of both the consumer and the merchant. He explained how the purpose of this campaign is for advertising to be scheduled on television during the evening in order to reach students and workers who are not able to follow Authority officials in programs during the day. The Minister explained how this is being done in order to increase the knowledge of consumers in this sector, who might have less information on what work the Authority actually does.
This educational campaign covers various topics including amongst others: the rights of air passengers including disabled passengers or passengers with mobility problems, consumer guarantees, selling without direct contact (like internet shopping; purchases through catalogues or television, etc), product security, consumer credit and home loans. This campaign also includes detailed leaflets on each topic.
Minister Azzopardi also said that Officials of the Malta Competition & Consumers Affairs Authority are going to undergo training provided by higher officials of the Italian Authority, the Autorità Garante della Concorrenza del Mercato. The main aim behind the training is that Maltese officials will get the opportunity to enhance their knowledge and skills when it comes to serve their duties and eventually will lead to more effective services provided by the Authority.
Another promotion will include the Trust Mark Scheme which was launched some time ago. This scheme is a code of conduct which merchants are bound to follow in order to give a better service to consumers. Through this scheme, merchants are bound to promote good relations with customers, make sure that commercial funds are secure and accessible, have good understanding of consumer needs and guide them as necessary; make sure that complaints are solved in the shortest possible time frame and that tribunal cases by consumers are eliminated. Minister Azzopardi said that the participation of merchants and businesses in the Trust You code of conduct renders fair practices among businesses for the benefit of consumers and merchants alike.
MCCAA chairman, Mr Francis Farrugia, explained how they will be organising five seminars, four in Malta and one in Gozo, with topics to be discussed including the legislature amendment, services offered by the Authority and fair competition.
Finally, Minister Azzopardi said that these initiatives will help create greater awareness amongst consumers. He said that it is in the governments' interest that consumers are continuously educated on their rights and obligations. He said that by means of European Union Funds, our country will keep improving in all sectors and therefore Malta will guarantee the best services to all Maltese and Gozitans.