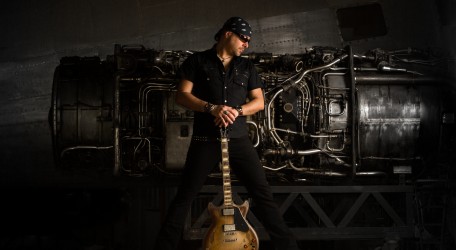 Local music talent Kenneth Calleja launched his very first solo EP titled 'Living in a Song' earlier this month. The Maltese artist, previously front man of the band Fire and regular guest singer for a number of prestigious local shows such as Rockestra, The Farsons Beer Festival and Teatru Unplugged, has been working on his solo project for more than a year and has successfully gained the trust, sponsorship and endorsement of the Malta Arts Fund as well as a number of top local and international brands.
The Project Support Grant by the Malta Arts Fund supports the development of high-quality artistic projects such as 'Living in a Song' and focuses on the development and production of an artistic project which has innovation, quality and artistic development as a primary aim. Living in a Song is the only rock project selected by the Malta Arts Fund in this particular round of funding.
The Living in a Song EP consists of four original compositions including the main single, a radio friendly rock 'n roller track, a power ballad and a rock song featuring bagpipes which were all written and composed by Kenneth who also led the initial production of the demos where he produced the tracks for the rhythm electric guitars, acoustic guitars, piano, bagpipes as well as the main vocals and backing vocals.
Living in a Song gave Kenneth the opportunity to collaborate with a number of local musicians as well as the internationally acclaimed guitarist Luca Colombo of San Remo fame who accepted the invitation to feature in the EP's single 'This Time' as well as its music video which was directed by the talented Jean Pierre Gatt and Matthew Camilleri, co-founders of Media Factory Malta.

The 'This Time' performance music video which was filmed in an exclusive location in Malta will be launched on Thursday 24th May 2018 while the 'Living in a Song' launch concert event which will showcase all four tracks for the first time as well as a collection of all-time favourite rock classics, will be held on Friday 15th June at 8.00pm.

"Thanks to the Malta Arts Fund and our sponsors, working on Living in a Song has given me the opportunity to dive deeper into music composition, experiment with various music instruments, collaborate with talented musicians and other professional artists from the creative industry, create an online platform www.kennethcalleja.com to showcase my new project and present my own authentic style to the local and international music scene," said Kenneth.
Full Living in a Song project details, information about the band members and details regarding upcoming performances can be found at www.kennethcalleja.com
This project is supported by Arts Council Malta – Malta Arts Fund