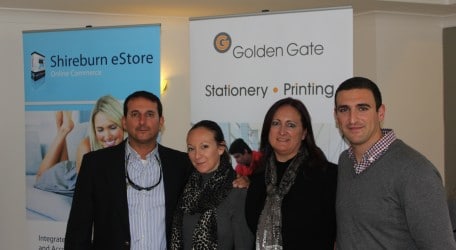 Pictured above: Paul Ellul, Rachel Hyzler, Geoffrey Farrugia and Tania Farrugia, owners of Golden Gate
Good news for business
Golden Gate, Stationers and Printers have launched their new eStore powered by Shireburn Software – a faster, easier and far more cost effective way of doing business.
Today, the good news for businesses in Malta is that they can source all their office supplies, printing requirements, and self-inking stamps from an e-store that has been built and designed with the end user in mind, backed by a company with over 60 years of experience in B2B stationery and powered by the latest software on the market.
Golden Gate have in fact been offering online shopping since 2007. As part of its 60 year celebrations, the company embarked on a re-branding exercise that included the development of its '2nd generation' e-store. Having recognised the importance of technological advances, Golden Gate continued to invest heavily in providing its customers with the latest technology available in order to continuously provide a better service.
In order to maximise the e-store's potential, the company's IT system was completely re-built, enabling the direct and automated link between the estore, inventory and accounting systems.
Shireburn Software, a Maltese company established since 1983 that today consists of a team of 30+ professionals, were awarded the project of developing the new estore, utilising their state-of-the-art eStore Software fully integrated with Shireburn Inventory Management System (SIMS) and Shireburn Financial Manager (SFM).
Log on to www.goldengate.com.mt today. It's fast, easy and saves you money.