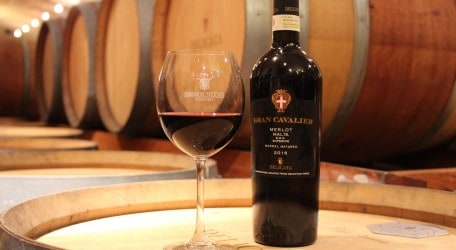 The outstanding 2016 vintage of Gran Cavalier Merlot, D.O.K. Malta, Superior, has been awarded a Gold medal as well as the Premio Della Stampa at the 2017 Emozioni dal Mondo Merlot e Cabernet Insieme international wine competition, which was recently held in Bergamo, Italy.
This red wine of distinction is skilfully created by Delicata, Malta's foremost winery. It tastes delicate and is reminiscent of the classic French style that made Bordeaux claret popular, but with that added pleasurable dusty and faintly savoury Maltese hallmark to it.
This cask-aged Gran Cavalier varietal is poised to become an iconic example of world-class Merlot of Malta.
In fact, previous vintages of the same flagship wine have amassed an additional three Gold and three Bronze medals at competitions such as the Challenge International du Vin held in Bourg, on the outskirts of Bordeaux in France, the International Wine Challenge and the International Wine and Spirit Competition, in the United Kingdom.
The impressive list of honours of this multiple medal-winning wine shows that Maltese Merlot can hold serious equity. When handled by a skilful winemaker, locally grown Merlot could very well be Malta's most promising red variety for mind-blowing wines of pedigree.
The Emozioni dal Mondo Merlot e Cabernet Insieme contest is organised by the Vignaioli Bergamaschi S.C.A. and only reviews wines made from the three red-skinned grape varieties Merlot, Cabernet Sauvignon and Cabernet Franc.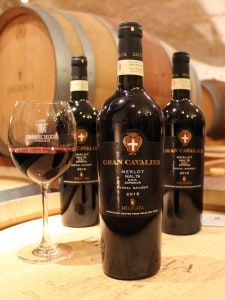 76 wine judges from around the world made up the judging panels of this year's 13th edition of the competition and between them they evaluated 256 samples produced in 23 different countries.
The tasting is governed by the Organisation Internationale de la Vigne et du Vin (OIV). Only 30% of the samples submitted can be awarded a medal and to win a Gold medal the wines must be awarded between 85 to 100 points. The Premio Della Stampa (Press Prize) is a special award commended by a special commission of wine journalists to a country's highest scoring Gold medal winning wine.
Besides the iconic Gran Cavalier Merlot, Delicata also crafts other commended white, red and rosé boutique wines that regularly receive critical acclaim, namely in their Frizzante, Pjazza Reġina, Medina, Victoria Heights and Grand Vin de Hauteville ranges.
The latest medal and press prize now bring Delicata's total international wine award count up to 121 awards. A quarter of these awards were won in the last four years, all under the direct stewardship of Matthew Delicata, the winery's chief winemaker.
Photocaption: Gran Cavalier Merlot 2016 has been awarded a Gold medal and the Premio Della Stampa at the 2017 Emozioni dal Mondo Merlot e Cabernet Insieme