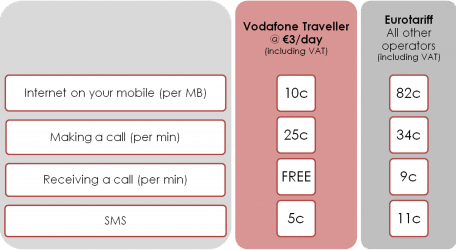 Vodafone prepaid customers travelling to Europe will for the first time receive calls when abroad without being charged with Vodafone's latest roaming product Vodafone Traveller. For just €3 per day, customers may enjoy local rates of free unlimited incoming calls, 25c/minute call rate, 5c per SMS and 10c/MB of Internet on Your Mobile.
"Receiving incoming calls for free when abroad provides peace of mind to our customers. They know they can now be in touch with everyone back at home without having to incur big expenses. We are offering our customers a breakthrough in roaming services, combining certainty with great value for money," said Alexander Froment Curtil, Head of Marketing at VodafoneMalta. "Our customers can now travel across Europe and use their smartphones and tablets as though they were still at home. They can receive calls for free and make calls, send texts and use apps or mobile internet at the same price as though they're still in Malta. Customers can now have a simple, worry-free plan which offers them the same accessibility and tranquillity as though they are still home."
Vodafone customers can apply for this offer by sending a free SMS to 16200 with the word TRAVEL, calling 247 from the mobile or by visiting one of Vodafone's retail outlets across Malta and Gozo. Upon subscribing, customers who are not on a Vodafone Base Plan will automatically be migrated to the Plan.
More information is available by calling 247 for free from a Vodafone line or 9999 9247 from any other line.  Alternatively one may log onto www.vodafone.com.mt/traveller for all details of Vodafone's traveller offer.