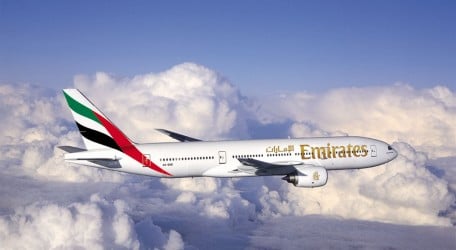 To meet a growing demand on the Malta-Cyprus-Dubai service, Emirates Airline has from today upgraded its aircraft size to a larger Boeing 777-200 offering a total of 274 seats in a 3-class configuration with 12 First, 42 Business and 220 Economy Class. The Boeing 777-200 is replacing the Airbus 340-300 aircraft which was deployed on the 1st of October 2012.
Emirates, one of the world's fastest growing airlines, started its operations to Malta in 1998, connecting the Maltese islands to new and key destinations across the world. Emirates currently flies on a daily schedule from Dubai to Malta via Larnaka, Cyprus, with an option of stopping in Cyprus.
Emirates Manager for Malta, Paul Fleri Soler said: "A second aircraft upgrade within four months on our flights confirms Emirates commitment to the Maltese islands. The additional capacity will generate many more trade and tourism opportunities."
"The Boeing 777-200 aircraft will provide our customers with the award-winning ice inflight entertainment on every seat, world-class service and gourmet cuisine, making the journey with Emirates as enjoyable as the destination," added Mr Soler.
All classes of the Boeing aircraft are equipped with Emirates' award-winning ice inflight system with hundreds of channels on-demand entertainment to choose from, including movies, television programmes, games, audio books and music from across the world. In addition to the entertainment, Emirates' multilingual cabin crew will provide the highest levels of service and care throughout the flight.
First and Business Class clients enjoy Emirates' service before they take to the sky with chauffeur-driven transfers from Malta and Gozo, as well as on arrival at most of Emirates destinations. Other special privileges include: dedicated check-in areas, a generous 40kg baggage allowance, and exclusive access to the Emirates Lounges at major airports, including Emirates Terminal 3 in Dubai.
Emirates SkyCargo will be increasing its belly-hold capacity to 17 tonnes on the Boeing 777-200 and is on hand in assisting importers and exporters.
Emirates currently serves 128 cities around the globe with a young, technologically-advanced fleet of 196 wide-bodied aircraft that are equipped with industry-leading comforts. Additionally Emirates is the largest operator of the Airbus A380 and the Boeing 777s.
In November, Skywards, Emirates' frequent flyer programme, inked a deal with easyJet, Europe's fourth largest airline, which allows for redemption of Skywards Miles for flights on easyJet, which flies to over 30 countries across Europe and North Africa.
Emirates EK 107 departs from Dubai International Airport at 8:10 hrs and arrives in Larnaka at 10:20 hrs. The flight goes onward to Malta, departing Larnaka at 11.30 hrs and arrives in Malta at 13:20 hrs.
EK 108 departs from Malta International Airport at 14:45 hrs and arrives in Larnaka at 18:10 hrs then onward to Dubai, departing Larnaka at 19:30 hrs and arriving in Dubai at 00:40 hrs the next day.
Flight information and bookings can be obtained from Emirates Sales Office on Tel: 2557 7255 or the preferred travel agent, or at www.emirates.com/mt