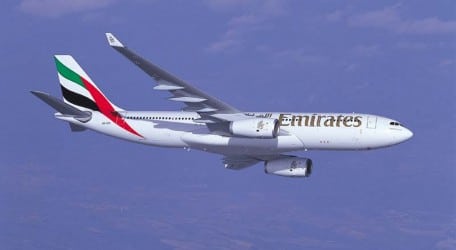 Pictured above: The A330-200 will serve Tripoli from 29 October
Emirates, one of the world's fastest growing airlines, is to restart flights to Tripoli from 29 October 2012, illustrating Libya's importance in Emirates' global network and the airline's commitment to the country.
Under the new schedule, Emirates' four-weekly flights to Tripoli will leave Dubai every Monday, Wednesday, Friday and Saturday at 0925hrs and arrive at Tripoli International Airport at 1400hrs. Flights to and from Tripoli will be served by an Airbus A330-200 in a 3-class configuration offering 12 First Class, 42 Business Class and 183 Economy seats, alongside up to 15 tonnes of cargo-carrying capacity.
"In resuming our flights to Tripoli, Emirates is underlining its commitment to Libya at a time when the country is demonstrating its strength and resilience in the face of adversity," said Jean Luc Grillet, Emirates Senior Vice President Commercial Operations for Africa. "We have been closely monitoring the situation in Libya and feel that the time is right to re-launch our services, which will help to support business, international trade and passenger travel to and from Tripoli, as well as strengthening the country's overall infrastructure."
Tripoli has been part of Emirates' route network since March 2001, when services were launched with 4 flights a week.
In 4th June this year, Emirates underlined its commitment toLibyawith the reopening of its Tripoli town office. The one-stop travel hub has been designed to make business and leisure travel easier and more convenient, with ticketing and reservation counters for general inquiries and dedicated counters for premium passengers, Emirates Holidays customers and travel agents.
Emirates offers customers in all cabins meals prepared by gourmet chefs, award-winning service from the airline's international cabin crew and ice, the airlines' entertainment system which offers over 1,400 channels of entertainment and the facility to send and receive emails and text messages.
With a fleet of 180 aircraft and already the largest A380 operator in the world, with 22 in service, Emirates currently flies to over 120 destinations in 74 countries.
Over the next six months, the airline will launch a further five destinations: WashingtonDC. on 12 September, Adelaideon 1 November, Lyon on 5 December, Phuket on 10 December andWarsawon 6 February 2013.
Emirates operates flights on a daily schedule from Malta to Dubai via Larnaka, Cyprus.