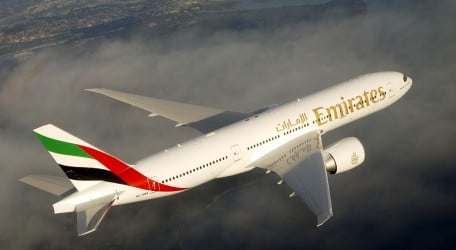 Airline's eighth US gateway connects passengers and cargo to New England hub
Emirates, a global connector of people and places, launched its daily, non-stop service between Dubai and Boston . Boston becomes the airline's eighth US destination and the 142th on its global network which links key tourism and trading destinations across six continents.
Emirates will operate daily flights between the two cities with a Boeing 777-200LR aircraft in a three-class configuration, offering eight seats in First Class, 42 in Business Class and 216 in Economy Class.
"We are extremely upbeat about our new Boston service. From the moment we first announced plans to connect Massachusetts to our global network, we have received a strong and positive response from travellers and our business customers – not only in the US, but also in our home market of the UAE, and other major cities Asia, Africa and the Middle East," said Tim Clark, President, Emirates Airline. "Emirates' inaugural flight carries passengers from the UAE and 39 other destinations, illustrating the reach of our global network, and the potential tourism and trade opportunities of our daily service. We thank our friends in Boston and Massachusetts for the warm welcome and look forward to serving this exciting city and state."
In addition to passengers, Emirates SkyCargo will operate bellyhold cargo space to help transport goods to and from Boston – such electronics, medical equipment, pharmaceuticals, machine parts, leather products, consumer commodities, as well as New England's finest lobster. Emirates SkyCargo can carry up to 15 tonnes per day.
One of the oldest cities in North America, Boston is also a popular tourist destination, with an abundance of cultural and historical landmarks.
EK237 will depart Dubai at 09:45 and arrive in Boston at 15:15. The return flight, EK238, will take off from Boston at 23:15 and land in Dubai at 19:30 the next day.
Emirates began passenger services to America in 2004 with the launch of daily non-stop flights from New York JFK to Dubai, and now offers daily flights to Washington, Houston, Dallas, Seattle, San Francisco, and Los Angeles.
Emirates operates daily scheduled flights from Malta to Dubai. On Mondays, Wednesdays, Thursdays and Saturdays Emirates flies via Larnaka, Cyprus, while on Sundays, Tuesdays, and Fridays, the airline operates direct flights from Dubai to Malta and return flights fly via Tripoli.
For further information about Emirates and to book flights to Boston, one may visit www.emirates.com or contact the preferred travel agent.