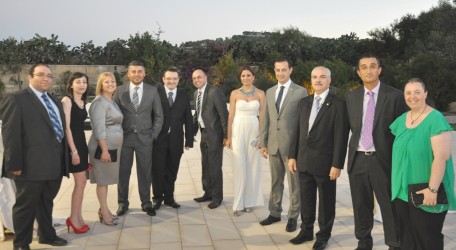 Pictured above: Lefteris Samaras, DHL Express Greece, Cyprus and Malta Managing Director (fourth from right), with the DHL Express Malta executive team headed by Country Manager Charles Schiavone (third from right)
Celebrating 30 years of successful service
DHL Express, the global market leader in the logistics industry, is celebrating 30 years of successful service in Malta. During the last year DHL Express Malta saw volumes grow significantly. This, according to Lefteris Samaras, DHL Express Greece, Cyprus & Malta Managing Director, is because of general market growth, while e-commerce demands have also increased.
Mr Samaras was in Malta to join DHL Express Malta in its 30th anniversary celebration and was keen to stress that the Malta subsidiary is important to DHL both as a local business and as part of the global network comprising 220 countries and territories, and about 100,000 employees worldwide.
"DHL is committed to Malta. We have a dominant position here and our plan is to further strengthen our presence by continuing to invest in our people, our facilities, and in the necessary equipment," he said. "Additionally, we intend to further develop operations, employ more people, expand our facilities and contribute to the national economy even further."
Apart from facing the normal, day-to-day challenges, like competition and the general economic environment, Mr Samaras said customers are becoming more and more demanding, and DHL has to adapt to their fast-changing needs. He noted the shift to e-commerce that had caused the spike in deliveries as an example.
Among the biggest strengths of DHL's Malta operation is the ability to offer the "biggest operating window", Mr Samaras said. "Our dedicated DHL cargo aircraft, a Boeing 757 Freighter, arrives first thing in the morning and leaves in the late afternoon. So we can make the earliest possible deliveries and collect the latest pick-ups possible.
"We have an overnight connection with Europe, excellent facilities at the airport and well trained people. We constantly invest in training, equipment, technology and automation, but the most important element is our people because our competitors also have vans, scanners, facilities and planes – it is DHL's people who make the difference," he said.
With its 30 years of experience operating in Malta, DHL have the track record and the market know-how that enable it to go the extra mile to serve their customers. "I have talked to a lot of customers during my visit," Mr Samaras said, "and they all expressed their satisfaction with us, as we are always there for them, ready to meet their Express needs on a daily basis."
DHL Express's promise to its clients is "Excellence. Simply Delivered: Satisfaction of our customers is paramount". The company aims to deliver outstanding customer service, which is at the heart of everything it does. "For this, we strive to create a positive experience for our customers every time we interact with them. We are committed to making that interaction move from 'Good to Great'."
DHL Worldwide Express, as the company was then known, first started operating in Malta in 1983 and was registered locally as DHL International Ltd, with five employees. Today DHL Express Malta has over 50 staff and operates from a dedicated logistics centre at Luqa within the MaltaInternationalAirport, managed by Mr Charles Schiavone as a country Manager.
| | |
| --- | --- |
| Date | DHL Express Malta Milestones |
| 1983 | A courier was on board commercial flights to and from London Heathrow every day carrying bank and business documents and dutiable items from most countries worldwide. Legal and shipping companies were also among its first customers |
| 1989 | High investment in DHL's IT infrastructure enabling it to scan all movements of each document/parcel to enable track and trace all the way |
| 1994 | Moved from the original premises in Fgura to new premises in Luqa outside the airport |
| 1999 | ISO 9000 certified (pioneers) |
| 2002 | Security programmes were introduced all over the DHL network to secure its employees, premises and customers' shipments. |
| 2004 | Full global visibility access from various sources of each piece from time of collection to delivery |
| 2004 | With Malta's entry in the European Union, DHL improved its efficiency in import customs clearance for 75% of the shipments received which originated from all EU countries |
| 2007 | Moved to the current dedicated logistics centre with facility access to the MaltaInternationalAirport |
| 2007 | Customs Bond and official in our premises during office hours |
| 2009 | Certified as an AEO (Authorised Economic Operator) |
| 2009 | Introduced Express 9 and Express 12 delivery in main European cities |
| 2011 | Dedicated DHL Boeing 757 aircraft daily from and to Leipzig, DHL's European hub. DHL is the only logistics company in Malta that works with its own plane (Boeing 757), which means earliest delivery and latest pick-ups |
| 2012 | Invested in Security with the latest technology X-Ray device |
| 2013 | Moves per day increased by 19% (compared to previous year) |
| 2013 | ISO 9001:2008 certified |
| 2014 | 20% increase in our workforce since 2013 |