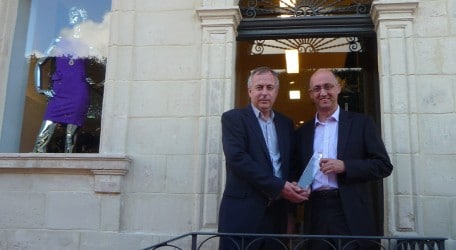 Pictured above: Peter King, Debenhams' International Operations Director and Simon Gatt Baldacchino, Managing Director, United Department Stores Ltd, outside the newly opened Debenhams at Paola's Main Street
Following on the success of its flagship store at The Point in Sliema, Debenhams has opened its second store at Main Street Shopping Complex in Paola.
The 10,000 sq ft department store and spread over three floors is the largest outlet at Main Street, and offers a host of fashion brands namely Red Herring, Mantaray, Collection, Pineapple, Maine New England and the exclusive kids wear Bluezoo.
"This new Debenhams is offering a range of fashion, lingerie, accessories and home ware in one store and the product and prices will appeal to consumers who are seeking designer quality at affordable high street prices," said Simon Gatt Baldacchino, Managing Director of United Department Stores Ltd.
For the winter season, Debenhams is presenting an impressive range of high street fashion for all the family. The men's section features a variety of leisure, casual and formal wear, and the kids section ranges from baby wear to 14 year olds including pretty party dresses.  A beautiful range of accessories including bags, shoes, and jewellery complements the new collection.
"We have some fabulous clothing collections for women who desire to be elegant, stylish and glamorous for this Christmas party season," said Louise Attard Roche, Store Manager. "At Debenhams' Main Street we are offering the same promotions as at our store at The Point and our customers will find the same product and service provided at any other Debenhams outlet worldwide."
Debenhams is one of the leading British department store chains and it has a legacy dating back to 1785.  It operates 170 stores in Britain and 70 franchised stores in 26 countries.
In Malta, Debenhams has been delighting families since March 2010 at The Point in Sliema. Together with the Paola's Main Street store, Debenhams now has a total area of 37,674 sq ft. offering even more high quality designer inspired products at affordable prices.
Debenhams in Malta is represented by United Department Stores Ltd, a subsidiary of the United Group of Companies.
Both stores are open from Monday to Saturday between 9.30am and 7.00pm and now even on Sundays (same opening hours) for the festive season till Christmas.