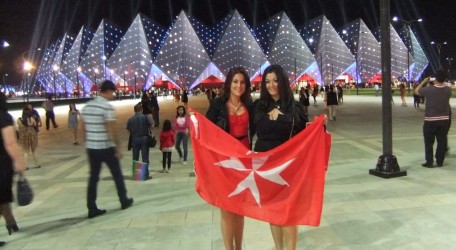 Pictured above: Vodafone winner Stephanie Vella (right) with Daniela Abela, Brand Executive, Vodafone Malta
A thrilled Stephanie Vella joined the Maltese delegation in Baku after winning the Eurovision Find Your Match game on Vodafone's Facebook page.  The winner beat thousands of Vodafone fans who tried their hand at playing the game, to clinch an all-inclusive trip toAzerbaijan and experience the Eurovision euphoria.
"When I got the Vodafone call I just couldn't believe my ears!" said Stephanie Vella.  "I've never so much as won a raffle prize so I was bowled over when I realised I was travelling to far off Azerbaijan to support Kurt Calleja.  Baku is a wonderful city while the Eurovison experience was just amazing.  The vibe in the amazing Crystal Hall with thousands for an audience was mind-blowing.  Imagine my delight when Kurt made it through to the finals.  I waved the Maltese flag to my heart's content!  I'm ever so grateful to Vodafone for a truly indelible experience."
Vodafone's Facebook game attracted the interest of thousands of fans who tried their luck with the game.  Many bagged the official Malta Song Contest CD while two winners – Tamara Caligari and Nathan Spiteri – took home a much-coveted brand new Apple iPad2 3G.  Vodafone is synonymous with creating customer-driven initiatives, games and competitions that reward clients and brand fans for their loyalty.