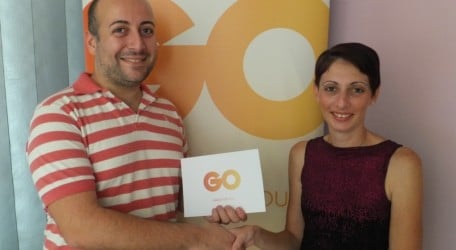 Neville Psaila from Marsascla is the 10,000th customer to sign up for GO's Interactive TV service and to celebrate this milestone he will be given a free 35Mbps internet upgrade for one year.
Through GO Interactive TV, customers have the opportunity of watching more than 100 TV channels in amazing picture quality. Viewers can Restart any live TV programme and Pause, Rewind or Record any TV programme with up to 20 hours of recording time. Furthermore, viewers can tap into a vast on-demand library to watch any TV programme from the previous seven days.
Ian Bugeja, Marketing Communications Officer at GO, said, "GO's Interactive TV gives customers the freedom to watch their favourite TV when it's convenient to them. This summer there were two important additional innovations to the service. These were the launch TV Anywhere, through which interactive customers can watch TV on their tablets and smartphones wherever they are in Malta and Gozo and the opportunity to install more than one Interactive TV outlet in homes. These, coupled with the existing features which Interactive TV already offered has continued to make the service more popular."
GO's Interactive TV service is available to existing GO TV customers for additional monthly service charge of €5 per TV outlet. New customers who wish to make use of the services offered through Interactive can opt to sign up for GO's Silver Interactive TV or Gold Interactive TV packages, which respectively cost €21.99 and €28.99 per month.
More information is available from https://www.go.com.mt/personal/tv/packages/tv-packages, from all GO retail outlets and exclusive resellers or by calling Freephone 8007 2121. Terms and conditions apply.