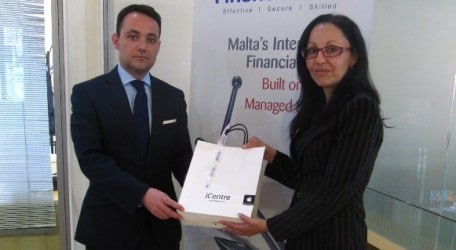 Maria Scicluna (pictured above with Mr Bruno L'ecuyer) , from FIMBank PLC, is the lucky winner of an Ipad Mini sponsored by FinanceMalta on the occasion of its Gold Sponsorship for the Economist Roundtable with the Government in Malta, an event held this March at the Hilton Conference Centre.
Ms. Scicluna's name was randomly drawn from the visitors that placed their business card inside a raffle box on the FinanceMalta corporate stand. Participation in this promotion was open to anyone present at the present at the event.
Ms. Scicluna works at FIMBank P.l.c., a Malta-based international trade finance specialist that provides a comprehensive range of trade finance and banking services to corporates, other banks and private individuals through its network of international offices.
The Economist Roundtable hosted an impressive line-up of A-list speakers including European Parliament President Martin Schultz, former Italian Prime Ministers Mario Monti and Enrico Letta as well as former European Commissioner Peter Mandelson.
Speaking about the resounding success of FinanceMalta's participation at the Economist event, FinanceMalta's Head of Business Development, Mr. Bruno L'ecuyer, told this newspaper that 'FinanceMalta was proud to have worked closely with the Economist and their main partners in Malta, CountryProfiler'. The attendance and interest at the event about the finance sector in Malta is a testament to the hard work and robust reputation that this increasingly important sector is having on the local economy' He went on to add 'we are in fact entering in discussions with the Economist to further strengthen our partnership going forward, and it is likely that a well know figure from the group will be actively participating at our own conference which will take place on the 14th and 15th May in Malta'.