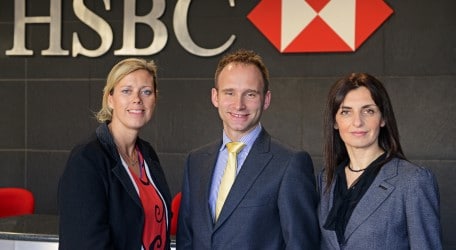 Pictured above:  Mandy Garner – Head of Human Resources; James Woodeson – Head of Global Banking & Markets, and Joyce Grech – Chief Risk Officer
Three new senior level appointees have been announced at HSBC Malta: Mandy Garner as Head of Human Resources, Joyce Grech as Chief Risk Officer and James Woodeson, as  Head of Global Banking & Markets.
With twenty years'experience in Human Resources, Ms Mandy Garner moved to Malta from HSBC in Jersey Channel Islands, where she supported the international business and took a lead role on all HR issues across the Channel Islands and Isle of Man. Ms Garner previously worked for Santander and the UK National Health Service and was educated in the UK, holding an MA in Law and Employee Relations and is also a Member of the Institute of Personnel and Development.
Ms Joyce Grech's career at HSBC spans over 17 years. After joining Midland Bank on its setting up operations in 1996, here in Malta, Ms Grech subsequently gained significant experience through various roles within HSBC Malta, as well as through an appointment at the HSBC London Head office, in Canary Wharf. Prior to her recent appointment, Ms Grech was Head of Customer Value Management within the Bank's Retail Banking and Wealth Management Division. In her new role as HSBC Malta Chief Risk Officer, Ms Grech succeeds Mr Stewart Luscott-Evans, who took up the role of Chief Risk Officer for HSBC Spain.
Mr James Woodeson was recently appointed HSBC Malta's Head of Global Banking & Markets, succeeding Mr Chris Bond, who was appointed to a senior management position in HSBC South Africa. Mr Woodeson has garnered over twelve years' experience in senior positions in HSBC London and Hong Kong, within the Global Markets and Global Asset Management businesses. Prior to his appointment in Malta, he was Head of Global Markets and subsidiary Board Director at HSBC International Bank, Channel Islands & Isle of Man. In his new role, Mr Woodeson is responsible for the Bank's Balance Sheet Management, Trading, Sales, Capital Markets, Financial Institution and Multi-National Corporate client businesses.
On congratulating the 3 new appointees HSBC Malta's CEO, Mark Watkinson said that it is with pleasure that he welcomes the trio on board and into their newly appointed roles. Mark also thanked their predecessors for their dedication and commitment, as he wished them well in their new roles.